OSAYEMI TO UNDERGO REHAB IN USA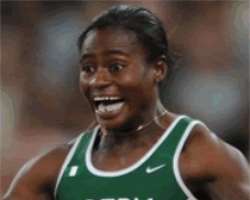 Osayemi
Sports minister, Alhaji Issa Bio, has thrown his weight behind Damola Osayemi who failed   drug test at the India 2010 Commonwealth Games, disclosing that she would undergo rehabilitation in the United States of America (USA).
Bio who said the nation could not afford to abandon the sprinter said the former Queen of the tracks, Mary Onyali Omagbemi, had been mandated to take charge and ensure
that Osayemi overcome her present problem.
In Bio's words:'The lady (Osayemi) is really down and weeping non stop. She has refused to eat and talk to anybody. But we have resolved to do everything possible to ensure she gets out of the trauma. What was found in her system was not really a banned drug.
She only took a supplement and that unfortunately landed her in trouble. We have concluded arrangements for her to undergo rehabilitation in US and Mary Onyali will coordinate that.'
Meanwhile, Osayemi was yesterday ejected from the games village and her medal stripped from Nigeria. She was sent packing alongside Samuel Okon who also tested positive to the supplement.
Despite the drug scandal the Nigerian camp is bubbling as the performance here is considered a good one.
Nigeria at the moment has won 10 gold, 10 silver and 13 bronze medals. The outing in India remains the country's best at the games in the last 20 years. Bio said yesterday that the athletes had done the country proud and will be treated to a reception when they return home this weekend.