EARLY MARRIAGE KILLS AND SHOULD BE ABOLISHED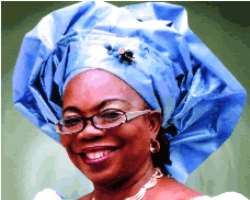 The first female Deputy Governor of Imo State, Dr. Mrs. Ada Okwuonu has revealed that the bond between her and the governor, Chief Ikedi Ohakim, cannot be broken because she treats him like her husband.
In an interview with Saturday Sun, Okwuono among other things, spoke on life in politics and the need for Nigerian women to stand up and fight for their right in government.
How did you go into politics?
It all started in those days when we were in Alvan Ikoku College of Education, Owerri when I was elected a member of the Students' Union Government. That was a long time now. But my contact with real politics was between 1990 and 1991 when I was elected a councillor for New Haven Ward in the Enugu Municipal Council of the Old Anambra State under the defunct National Republican Convention (NRC). I was subsequently elected the first woman leader of that municipal council. I was also the PDP woman leader and 'mobilizer' for my home local government, Ezinihitte Mbaise for many years. And in the year 2003, I had a shot at the chairmanship seat in the same LGA. However, my political career experienced a dramatic climax when, in February 2007, I was elected the first female Deputy Governor of Imo State.
What was your husband's reaction when you told him that you were about to join politics?
I was rather lucky because my husband is also interested in politics. It wasn't difficult to get him to support my decision to go into active politics. He is an understanding man, and I count myself lucky to have him as a soulmate. He has been supportive. He brings money when I demand it to sponsor my aspirations. He knows that I am naturally charismatic. He knew that I have the ability to lead people and ensured that he got the best out of me. I respect him for that and pray that God will continue to bless and sustain him for me.
As a deputy governor, do you still find time to cook for your husband?
Despite my tight schedule as the deputy governor, I still have time to cook for my husband. Although there are cooks in the house, I try as much as possible to give him a treat. I know what he loves most and can prepare it better than any cook.
What do you miss being a deputy governor?
Life as a politician has been very challenging and at the same time interesting. There is a saying that 'uneasy lies the head that wears the crown'. A lot of people may think that it is enjoyment galore once one is in a position like mine. No way! As a woman, I would always like to get into any nearby shop to buy some personal items but as a deputy governor, it is not as easy as before because of issues bordering on protocol and security. You have a lot of functions to attend, many mails to treat, memos to prepare, hundreds of phone calls to answer, thousands of text messages to read, many visitors to attend to and so on. Yet, you are expected to cover all these things. But the joy of it is that you are in a position to serve people and make a name through that.
What do you wish to be remembered for when you finally leave office as deputy governor?
I would want to be remembered as Ada Okwuonu, as the deputy governor who was very loyal, very friendly and resourceful. I would like to be remembered as a woman who tried to pray to God almighty to encourage and bring women into politics. I should be a stepping stone for others to follow.
In most of the states, deputy governors always clash with their bosses. How have you been able to maintain a cordial relationship with your governor?
Rulership is like marriage. Till date I am comfortably and happily married and I carried that same value to the governorship of Imo State. I am a mother. I studied psychology. For you to succeed even at home, you must first look at the face of your husband. If your husband is hot tempered, you will know the right time to talk to him. When you talk at the same with him, you may end up clashing and exchanging bitter words. So, when I came into partnership with his Excellency, I found out he had a lot of challenges. Being a governor is not an easy job. I have been a director of a company, so I know how to handle such a position.
I quickly studied my boss and mapped out the best way to approach him, and my little secret has been working for me. He is approachable. You have to know when to approach him. I make sure that all the duties assigned to me are done well. He is a very meticulous person. If you cannot bring yourselves to his level, then you can't be his friend. That has really helped me.
So far, how has your experience with him been?
You find out that when we came into the race, we came from another party before we crossed over to PDP. Since then, people have been attacking this government. And I made sure I supported my governor from day one. I made sure I supported him because it's a joint ticket. So, there was no need playing hanky panky. There was no need not being involved. I was completely involved in all the activities. And when he gives me any assignment, I make sure I do it. I go to court with him. I make sure I did not distract him. I covered my ears from critics. I didn't want to give any- body any chance. And that made him to believe in me. I obey him.
Those deputy governors who fail to agree with the governor are yet to understand that no governor will share power with you. If you look at the constitution, you are a good partner. You will be there all the time for the governor. At the same he is the governor and you are the deputy. If you learn to restrict yourself to your duty as a deputy governor, then you will live in harmony. But when you start robbing shoulder with your boss, then you have friction. And the deputy being the junior will surely leave. Since 2007 till date I can't remember having any friction at all. Once there is tension, I withdraw.
The First Lady, Dame Patience Jonathan has been in recent times mobilizing women to stand and achieve that 35 per cent participation in politics. Do you see that effort as being realistic?
It is very achievable but the women should stand up for their right, and for women to achieve it, we need to stand up and participate in politics. We need to support ourselves to make it because the future of our children in this country is at stake. If we come out, how can we make a difference. As the first female deputy governor in Imo State, I have to be a role model. People will observe that women can do much better than the men and see the need to vote us into leadership positions. If I am antagonistic, Ohakim won't even listen to me nor his wife. The wife of the governor is a good supporter of women in politics for change. She is the patron in the state and both of us are working hard to make sure this is realizable. That is why we are approaching our boss so that he will do his best. And honestly speaking, our governor is gender friendly.
The case of child marriage that indicted a senator in the National Assembly seems to have died down. What are the women folk doing to ensure that it is not swept under the carpet?
Honestly speaking, I am sad myself because that man is still sitting there making laws for you and I to obey. Early marriage is a killer and should be completely abolished. The girl-child will be made to face all kinds of health challenges. As long as we are concerned, the case is not over yet because someone has to be used as an example to the men and parents who engage in such. The Women For Change is on it and in no distant time, we will see results.
How would you assess Nigeria at 50?
We have a reason to thank God for leading us thus far. In my own assessment, Nigeria has done well compared to where we are coming from. We came from villages. If you go back to your villages especially some of us who were born before 1960, there is a great difference. In our school days, we had only one central school and people had to trek from Obowo down to Mbaise just to get educated. But now everywhere is littered with primary and secondary schools. In one town, you can get up to three, four secondary schools. This is development but some Nigerians are judging us based on the years. The fact is that for years, when the military was in charge, there was no development. The army had no programme. They do whatever comes to their head. Since the civilian came in, we have manifestos and programmes we work with. Let Nigerians be patient and in years to come things will be better.
What is the way forward especially now that we are in the era of electing those that will rule the country for another years?
A leader is a leader. The most important thing is commitment. We need a committed leader. A leader who knows that a child who goes to school needs a clean environment. Children should not sit on the floor. We need committed leaders who know that a pregnant woman needs good treatment, a leader who knows we should manufacture and not only consuming. We need leaders who know how to communicate with the outside world and balance our children with the outside world. We need a leader who will take the responsibility of all the challenges of Nigeria and know how to tackle them one by one. Jonathan has started working already. So, he knows the challenges of Nigeria more than anybody who is outside the government and most especially he is from the grassroots. He is a man of vision, he knows the challenges already. He should be left to concentrate. Nobody should distract him so that he will bring Nigeria to the next level. Another person challenging him is just a new starter and we are tired of new comers. Let the one who is already there complete what he has started.
Why should the people of Imo State vote for Ohakim for a second term?
As I have said about the governor who is also a man of vision, he has plan for the people of Imo State. He has a lot to do for Imo State. It is very well communicated, well programmed. The only thing that can draw us back is all these antagonism and backbitting in Imo State. But to the glory of God, All these have been completely terminated. People of Imo State now believe in their governor. The people of Imo State should believe in their governor. He is their son and not an outsider. By the next tenure starting from 2011, you will see wonders in Imo State.
Can we share your most memorable moments as a deputy governor so far?
Almost everyday is a memorable day because everyday comes with one challenge or the other. One of the greatest days that excited me was the day of our inauguration. The mammoth crowd I saw and the honour given to me to serve my people overwhelmed me.
Any embarrassing moments at all?
They are the experiences we had especially during the days we were in and out of court. God in His infinite mercy saw us through. From the time you are going into the court, you are miserable as you are all alone. But the time you come out and you have won, you make many friends. It was really embarrassing and I thank God for seeing us through.