Emeka Ossai rules with Comfort Zone, Crossed Road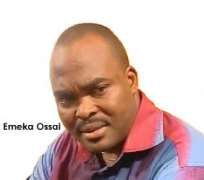 With the ultimate aim of providing unequalled entertainment for TV viewers on a weekly basis, the Emeka Ossai-led Golden Pyramid Productions Limited, has vowed to take the game higher with its two latest efforts, Comfort Zone and Crossed Road.
In a recent chat with us, the foremost actor and producer of both critically acclaimed works explained his outfit was wholly set to give viewers within and outside Nigeria, the best of entertainment on both terrestrial and cable TV.
Speaking further, Ossai maintained that Comfort Zone and Crossed Road had completely changed the face of TV soap/comedy, since hitting the airwaves, adding that both productions had also brought fresh faces on TV.
While shedding more light on the synopsis of both wave-making productions that won four awards at this year's edition of Terracotta, Ossai explained that Comfort Zone is strictly a situational comedy that sensationally narrates the diary of three good friends from different backgrounds that graduated from same university. "While two of these pals have good jobs and are very hard working with the right attitudes to work and life, their other pal chose to be a complete opposite. Aside squatting and feeding fat daily on his pals, he always gets them into trouble.
On the other hand, Crossed Road, is a serious drama on the every day challenges that confront Nigerians, especially the youths. Imagine a young and innocent village boy migrating to the city in search of the proverbial Golden Fleece, only to meet a lady that happens to be his opposite in all spheres of life, thus began their twisted journey."
Commenting more on the awards, Ossai, the 2008 AMAA Best Supporting Actor, said they were richly deserved and a proof that his production outfit had been affecting lives positively via entertainment. "Both productions got four awards in the categories of best comedy on TV, best writing team, best supporting actor and best actress awards, respectively. The awards will spur us to work even harder and continue to put in our very best for viewers in all our productions.
Meanwhile, the dearth of quality programmes on air necessitated the coming of these great works. We are also very grateful to our sponsors and advertisers, because without them, we won't be on air entertaining millions on a weekly basis." Among the thespians currently dazzling in both productions directed by Obi Osotule, are: Emeka Ossai, Kate Henshaw-Nuttal, Christy Okonkwo, Kunle Salawu, Nora Ugo, Nkem Ike and several others.