'Retro Sexy Redefined' – NouveauRiche 8485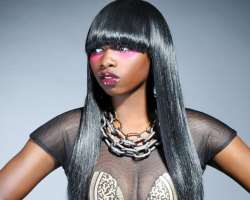 We all love us some Ankara, don't we? And there are a good number of African designers who work with it and create fabulous pieces for us to lust over. However, a big challenge for them is differentiating their brand from others who work with the fabric.
NouveauRiche 8485(NR 8485) has managed to give their Ankara pieces a different "song to sing" . Their pieces are captivating and I get no sense of déjà vu with them.
NouveauRiche 8485 was born out of the desire to create one of a kind pieces infused with culture and a refined edge. Creators Tolani Aremu andKolapo Alex-Oni aim to bring the polished stylings of their native Nigeria to the fashion forefront.
"The intent behind the brand is to overcome style barriers, continually challenge convention, and push the extraordinary. Empowered and inspired to create these distinctive conversational pieces, Nouveau Riche 8485 sets out to present a brand of undeniable dimension, depth and aesthetic."- NoveauRiche8485
Their debut collection features 5 pieces mostly in traditional Anakara, but with fabric mixes with cotton and mesh. I like how they work with Ankara; their designs come off as a contemporary interpretation with tulip shapes , dramatic sleeves, body conscious dresses and bodycon skirts, and inserts like mesh, zipper details and chain links .
It's retro sexy re-defined; from the short lengths to the bold cuts and styling. Although a small collection, the pieces are very strong; immaculately finished, polished and refined.
I'm really liking the personality I'm getting from this brand and I look forward to their future offerings.
View NouveauRiche 8485 debut collection