50 years of recycled fashion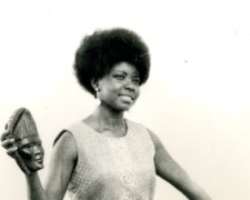 Fifty years ago on October 1, 1960, Nigeria gained independence as a nation, joining other African countries who had regained freedom from their colonial masters. The lowering of the British union jack and the hoisting of the Nigerian flag, symbolised a new beginning for Nigerians. A Nigeria that will be run and managed by Nigerians. A Nigeria that will propagate the ideals of Nigerians rather than one imposed on us by others.
Unfortunately, the years of British Colonial rule was not one that could be wished away just by lowering the Union Jack. For while the British packed their baggage to leave, the common things we had shared with them remained. The language, religion, culture and very interestingly fashion!
The 50s and 60s were great fashion decades in Europe. With income reported to be at its best, clothes were aimed specifically at the young. Designers targeted their inexpensive clothes to suit the urban lifestyle of these people. Until this time, fashion was really for the rich elites whose preferences dictated the trend at that time.
One of the hit fashion in this era was the mini skirt believed to have been invented by Mary Quaint and sold at her boutique. The mini skirt was the fashion sensation of the sixties. Very eye catching, hemlines of this garment was said to have risen up to 7 to 8 inches above the knee. Designed for an ideally skinny female form, the mini was created not just in skirts but in form fitting, brightly coloured dresses.
Men's fashion for the first time, saw an uncommon change. Colour was introduced into mens' fashion that was hitherto colourless in appearance. Slim fitted trouser and print shirt was the order of the day. Lapels took a wide dimension, so also did trousers.
As the colonial masters took charge of our lives as a people at that time, Nigerians were greatly influenced by everything that came from abroad. The socialization process, made Nigerians feel that the English culture was better and superior to ours. This belief still rears its ugly head today. For there are those who still believe that if it is not imported, it cannot be good nor be of good quality. And so, we abandoned what was ours and lapped the fashion that was brought to us at that time. The years of colonial rule also gave many Nigerians a complex, about wearing ankara dresses or the tie and dye.
As the first woman to own a boutique in Nigeria, Mrs. Sade Thomas_Fahm, who just returned to Nigeria at that time after her studies abroad, had a hard time trying to convince Nigerians to wear dresses made with local fabrics. According to her, "Because we were under the British rule, we always felt that the English culture was better. That was what we brought up to believe. And the styles that we cherished at that time, was the fitted, princess line because that was what the princess of England was wearing at that time. We also had pleated skirts and fitted tops what we call, shirt line. That lasted from the 50s to 60s. The shoe at that time was the platform shoes and of course the stiletto heels which was about 3inches high nothing compared to what girls wear now. The shift dress at that was on the knee. Then it came to mini when it came to about 2 inches above the knee. Then it became the micro when it got to about 8 inches above the knee. In between we found the midi when people were agitating that it was too much, it came below the knee to about 4-5 inches. That became the midi. Now, which ever length you wore, what it did for us was that when you wore a western dress, it made you look educated and sophisticated and western especially for those who are not educated". The few seamstresses then were hot cakes as they made brisk business designing English dresses for Nigerians. Again Mrs Fahm explains how it worked. "In those days, the vogue was to bring catalogues from abroad, which our women clung to and took to the dress maker to choose a style after buying fabrics from one of the few shops that sold western fabrics. And like I said earlier, the vogue was the princess line".
With the establishment of Sade Boutique, Mrs Fahm embarked on finding an identity for Nigerians by inventing and creating many innovative styles using traditional African fabrics. So with the ankara, she made pleated skirts, flounce skirts, shift dresses and even designed an adaptation of the traditional up and down style. Her efforts kick started what is today known as the Nigerian fashion industry.
But did Nigerian women embrace this new trend? Your guess is as good as mine. Of course, not. Clothes in designed in prints then were not considered as cutting edge style.
"Most Nigerians fought it" she confessed. "They didn't want the change. They wanted European fashion. So at the beginning, they resisted. The problem was that we have a complex and it is so deep. Unfortunately, at that time, the people importing these foreign clothes and fabrics were wives of Nigerians who were highly placed. These women didn't pay any duty on their luggage so they could afford to sell at a rate that they made gains. So somehow, they influenced women to love foreign things and ended up ruining the country".
The rejection did not deter her from pursuing her course. Luckily for her, with hard work and continuous pushing, it was the colonial women who first embraced the African designs much more than our own people. And when the European women started talking about Shade's boutique and wearing her designs, Nigerian women followed suit. Apart from her boutique, Mrs Fahm supplied clothes to departmental stores like Kingsway and Leventis.
The post independence years, therefore could be described as one of fashion revolution in the Nigerian nation. As Nigerian women began to identify with our traditional prints and other fabrics, many elegant women patronized Sade's boutique. As high society women wore prints, they were able to influence the dressing pattern of other women.
Like Mary Quaint who is often credited with the mini rage in the UK and other countries in the 60s, the boubou and kaftan could also be credited to the creative ability of Mrs Sade Thomas Fahm.
As we mark 50 years as a nation, there is no doubt that Nigeria has come unto her own. Like the Indians who have cut out an identity with the Sari, by the effort of the likes of Mrs Sade Thomas Fahm and others, Nigerians can boast of an identity in the ankara and through the inexpensive colourful fabric, our culture has been preserved. Anywhere we go today as a people, we can confidently wear the ankara or adire or aso oke designed in any style and not have a complex.
Today, through our fashion, Nigerians have become conscious of what they have and of their worth. The rejected fabric of the 60s, has become the corner stone of modern Nigeria fashion.
Through the ingenuity of designers like Ituen Bassey, Jewel by Lisa, Data Okorodudu, Bisola Edu, an embellished ankara would stand out in any runway, anywhere in the world. And as Mrs Fahm puts it nicely, " I made them realise there is goodness in what we have."