Nigeria At 50: Abuja Is Ready – FCT Minister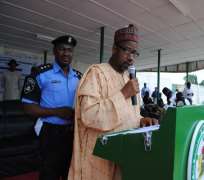 ABUJA, Sept 27, (THEWILL) - The FCT Administration says it is ready to host the much awaited Nigeria @ 50 Independence Anniversary ceremonies slated for various locations of the city.
FCT Minister, Senator Bala Abdulkadir Mohammed gave this assurance after inspecting facilities and venues where some of the ceremonies are expected to take place in the Federal Capital city of Abuja.
The Minister who was at the Eagle Square, Millennium Tower, Velodrome, National Stadium, the on-going rehabilitation and expansion of the Umaru Musa Yar'Adua Expressway and Garki Old Parade Ground, said that he was impressed by the giant stride achieved by the FCT Committee on Nigeria at 50 headed by the FCT Minister of State, Navy Captain Caleb Olubolade (Rtd).
Senator Mohammed remarked that the FCT Committee was set-up to complement the efforts of the National Committee as the host city and that the FCT Committee has lived up to its bidding. The Minister reiterated that the FCT Administration is a responsible chief host and would not leave any stone unturned.
Senator Mohammed however charged the FCT Committee to dwell more to improve on the beautification and aesthetic of the entire Federal Capital city to have a lasting impression on all the national and international visitors.
The Minister assured all Nigerians that the FCT Administration will discharge its responsibility with utmost sense of responsibility; insisting that he would never be party to anything close to failure especially as it involves the image of the country.
He commended the magnanimity of the members of the Organised Private Sector, Corporate Organisations especially the contractors doing business with the FCT Administration who have taken over the responsibility of the painting of kerbs in the entire city which would have cost the nation millions of Naira.
Senator Mohammed re-affirmed that whenever the history of the nation's capital is written their names would surely be in gold.
During the inspection, the Minister directed the FCT Development Control to as a matter of urgency remove all illegal structures in the Federal Capital City and that action be commenced from the Old Parade Ground within two days.
He thus, advised that all those occupying those illegal structures to immediately remove their belongings to enable the Development Control Department carry out its statutory responsibilities.
Speaking during the inspection, the FCT Minister of State, Navy Captain Caleb Olubolade who is also the Chairman of the FCT Committee on Nigeria at 50, promised that more people would be brought on board to accomplish the national assignment.
The FCT Permanent Secretary, Dr. Biodun Nathaniel Olorunfemi, the FCDA Executive Secretary, Engineer Muhammad Sani Alhassan and other members of the FCT Executive Committee (EXCO) and members of the FCT Operational Departments were all on the Minister's inspection tour.