What Tricia Eseigbe did with her off-shore lover …On his birthday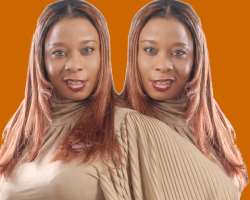 Married life really pays TV personality, Tricia Eseigbe. The presenter of international TV show, Bold Faces is happy. Reason: It's her hubby Kingsley Kerry's birthday last week. And Tricia called friends and associates to announce the celebration, which is low-key, upon her return into the country from UK.
We gathered that she gave her husband a dinner treat at Chinese Restaurant, Jade Place on the Island to mark the day.
Kingsley, a citizen of Great Britain, got married to Tricia Eseigbe in a glamorous way a couple of months back in Lagos having dated for several years.
Trust some Lagos busy bodies; they didn't fail to ask: Since she wasn't planning to give them a bash, why so much fuss on the birthday? But observers won't blame the sultry actress who hugged stardom with 'Samadora' after all she went through before she finally hooked the guy; she needs to put all efforts to make the marriage work.