ON YOUR HEELS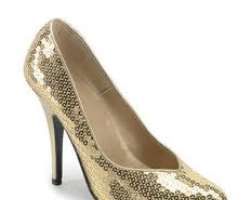 Women love high heeled shoes. It does not matter what damage they can do to their feet. For dress-up occasions, high heeled shoe is it. It makes one taller. Shorter women like to wear high heeled shoes to stand more equal to everyone else. The affect of the taller heels is to make the legs look longer. The length makes legs look supple and sensuous.
There are other ways that high heeled shoes make a woman's body more appealing. They change the whole posture a woman displays. While wearing high heeled shoes, a woman's curves are more pronounced because of the positions of her derriere and chest. She also walks differently, with her hips moving gracefully. High heeled shoes not only make a women look better. She feels sexier wearing them as well.
Parties and nights on the town are good places to wear heels. Business wear is popular in certain occupations. Bringing an air of feminine authority and visual height, high heeled shoes can make an impact in the boardroom.
The heels women wear the most are smart black high heeled shoes.
Different people prefer different heights, but the lower heels are more common. They can be worn to a larger variety of occasions such as to work, to dinner parties, and even to more reserved events such as church or funerals. The high black heel is the sexiest of the heels. Stiletto heels may be difficult to walk in, but the look is fabulous.
Other types of heels, such as the tapered heel or the block heel make the leg look different. Women wear these shoes to be in style and to show a level of sophistication that they never can in flat soled shoes.