AMAECHI TO SPEND N10B ON PORT HARCOURT LINK ROAD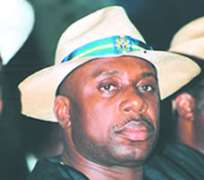 Rivers State Governor, Rt. Hon. Chibuike Rotimi Amaechi, has awarded the contract for the complete rebuilding and re-construction of the foremost link road that connects the city of Port Harcourt to the international airport on the outskirts of the city and further down to Imo State. The road is the 10-kilometre G.U Ake road and Eliozu Bridge and Roundabout.
The road, which is a key link into Port Harcourt, opens from Aba road, at Air force junction, and runs through Eliozu Bridge to the Olu Obasanjo By-pass at Ikwerre road, leading to the Port Harcourt International Airport and further down to Imo State.
First constructed by a previous administration, the road is rapidly failing and residents of Port Harcourt have constantly cried out to the state government, labelling the road a death trap. The previous administration of Celestine Omehia awarded the Eliozu flyover to Bulletin for N1.7 billion and made full 100 per cent payment shortly before he was removed from office.
In line with his vision of rebuilding the state, Governor Amaechi re-awarded the contract for re-construction of the road and bridge to RCC.
Rivers State Commissioner for Works, Hon. Dakuku Peterside, explained that the contract has been awarded to RCC at N10 billion and work is expected to start next month, as soon as the rains subside.
He said: 'The total work done earlier on that road has been bad. The bridge is one bridge that we have strongly criticised.
The contractors did a shoddy job and so far the entire job has been poorly done and the road is seriously failing, which is why the Amaechi administration has resorted to re-constructing it as the best option.
'The road will be re-constructed with 20kms sub-surface drains, 10kms on both sides. The approaches to the Eliozu flyover will be done and the road will be expanded. The road would also have 20kms of paved walkway, outward drains, streetlights and greenery. We are looking at completing this project by June next year.'
Senior Special Assistant to Governor Amaechi on Media and Publicity, Mr. David Iyofor, said: 'The G. U Ake road and Eliozu Bridge is a key gateway road that leads into the city of Port Harcourt. Most people that come into Port Harcourt from the airport, the communities around the airport and from Imo State, come through this road and bridge. There have been a lot of complaints about this road and bridge. On Governor Amaechi's Facebook page, people have consistently criticised the quality of work done on that bridge and the roundabout. The governor had told the people to exercise patience. Now, he has awarded the contract for that entire stretch of road and bridge to be redone.'