Let's Debate On Economy – Atiku; Submits Presidential Form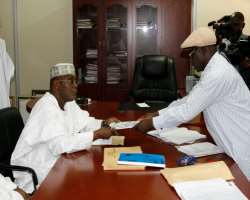 PHOTO L-R: FORMER VICE PRESIDENT AND PRESIDENTIAL ASPIRANT, ALHAJI ATIKU ABUBAKAR PRESENTING HIS NOMINATION FORM TO THE NATIONAL ORGANISING SECRETARY OF THE PDP, CHIEF UCHE SEKONDUS AT THE WADATA PLAZA HEADQUARTERS OF THE PDP TODAY, SEPT 21, 2010.

ABUJA, Sept 21, (THEWILL) - As the political drum beats heighten, former Vice President and Presidential aspirant of the Peoples Democratic Party (PDP), Alhaji Atiku Abubakar, today canvassed for a debate on the economy by all aspirants to the presidency.
Atiku posited that the economy should be top priority of national discourse as the country gears up to the 2011 general election.
"The issue of economic recovery for Nigeria cannot be a matter of wishful thinking nor of rhetoric. It is a subject for rigorous analyses and provision of well-thought, viable, practicable and sustainable strategy," he said.
Atiku noted that all aspirants to the choice job of president should inform fellow Nigerians how they plan to tackle the scary challenges facing the economy and reposition it for the benefit of all Nigerians within a short period.
"Of all the aspirants that have declared interest in the presidential election so far, I consider myself the most qualified to address the daunting economic challenges facing the country. I am the only one who has successfully managed a business and you need extensive knowledge of the private sector to combine its potentials with the authority of the public sector to address this challenge," he boasted.
Atiku said his own approach to resolving the economic crisis was well detailed in his 47-page Policy Document presented on August 15, 2010 at his announcement of
intent to contest in the 2011 presidential poll.
He threw up the challenge when a group of South East businessmen and women paid him a courtesy visit.
Atiku said in recognition of the importance of the economy, he released his policy document the same day he announced his intent to contest the 2011 presidential election. The aspirant said it is clear from surveys conducted nationwide, that the single most important issue for Nigerians today is job creation.
"We are faced with a job crisis of monumental proportions. Unless we evolve strategies to dealing with the teeming population of young people churned out almost on a daily basis, we may risk destruction of the next generation. If we fail to channel the energies of this huge population, they could be a potent force for instability and social unrest," he said.
Atiku said his job creation strategy would involve a combination of direct government intervention, through public private partnerships (PPPs) and the efforts of federal, state and local governments.
According to him, the overall objective is the development of entrepreneurs through high impact job creation initiatives, encourage infrastructure development that is inherently labour intensive, resuscitate industries, as a fall out of the improved infrastructure and accelerate the growth/opening up of other sectors that are labour intensive (law and order, teaching, health services, sports and entertainment, among others).
He said job creation must be complemented with economic transformation, which include but are not limited to steady electricity supply and development of a modern road and rail network, development of a gas pipeline network, restructure
of the Federal Government and implementation of property reforms.
On power, Atiku said he will in the first 30 days appoint a Power Sector expert empowered with sufficient authority across all the relevant sectors/government agencies to spearhead the power reforms; adopt a two tiered emergency power programme (EPPs) that can deliver additional capacity in certain key areas (as
was done with AES in Lagos and Geometeric & Aggrecko in Abuja), and also ensure the completion of the power plants, distribution and transmission infrastructure currently under construction, and a National Power Programme (NPP) to be pursued over the medium-term.
Under the NPP, he said a two-pronged approach to complete ongoing system expansion to increase supply and undertake a holistic reform (restructuring and private sector participation) will be pursued. He said all government agencies must cooperate on the priority projects adding that presently, liaison between agencies (customs; immigration, ports, FIRS) is very weak and bedevilled by conflict.
In the long term, he said electricity generation plant mix would need to be diversified to include non-renewable energy (hydro, solar, nuclear) and other thermal fuels (coal, bio-fuel) thereby reducing the dependence on natural gas while concomitantly improving security of supply.
He regretted that government has been unable to use fiscal policy to stimulate the economy.
He said that the CBN must be caused to create a semi-autonomous banking supervision function within the apex bank, thereby allowing the CBN to concentrate on its key mandate of pursuing price stability and focusing on monetary policy.
Meanwhile, the former Vice President who returned his nomination form today confirmed that the campaign organisation of all the presidential aspirants from the North were already holding discussions with a view to presenting a common aspirant that would eventually go into the PDP primaries with president Jonathan.
"There is a process for the emergence of a consensus candidate in the North. It shows that North is even more united if they agree to bring out a consensus candidate," he said.