GUSAU PICKS NOMINATION FORM TODAY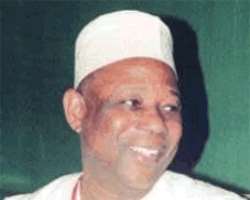 Former National Security Adviser, Lt. Gen. Aliyu Gusau, is expected to pick the nomination form for the presidential ticket of the Peoples Democratic Party (PDP) in Abuja today and make formal declaration for the presidential race within the week.
According to the Director General of his Campaign Organisation, Chief Ben Obi, Gusau who resigned his appointment as NSA last Friday is expected to swing into full action immediately after picking the form.
Although his resignation takes effect today, the former NSA was at a meeting with three other aspirants for the office of the president in the PDP.
The others are former Military President Ibrahim Babangida, former Vice President Atiku Abubakar and Kwara State Governor Bukola Saraki. Campaign managers of the aspirants who met last Friday had announced an agreement that they would present a consensus aspirant for the party's presidential primary.
Chief Ben Obi said Gen.
Gusau decided to make his ambition open after consultation with a broad spectrum of Nigerians. He said the NSA had officially informed President Goodluck Jonathan of his resignation and intention to pick the presidential nomination form on Friday and both men agreed to part on mutually amicable grounds.
Chief Obi said: 'After picking the form, the NSA will move quickly to formally declare his aspiration, but it will not follow the jamboree style adopted by others. Those who know Gen Gusau will confirm that he is a methodical person. He knows that primaries are targeted at party delegates, not yet the general public. In a few days, he will make his intention known to a select audience in Abuja . Thereafter, we have mapped out plans to reach all the delegates.'
Another source close to the General rejected the notion that he has a weak network that could confront other leading contenders. He said: 'General Gusau, having held high profile military and security offices in the past four decades, is set for the race. He has a strong network of friends and associates who cut across the six geo-political zones and the declaration is a result of consultations.'