I Served The Nation's Interest; I've No Political Ambition – Babalola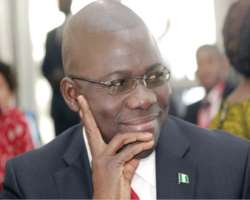 ABUJA, Sept 19, (THEWILL) - Former Minister of State for Finance, Mr. Remi Babalola, said at the weekend that his ministerial appointment provided a unique opportunity to represent the interests of the good people of Oyo State while serving the interest of the Nigerian nation.
Babalola made this known in a letter of appreciation to the Oyo State Governor, Otunba Christopher Alao-Akala, obtained by the THEWILL in Abuja. The former minister had on Thursday, September 16, 2010, resigned from the Federal Executive Council.
He expressed his heartfelt appreciation to the Oyo State Governor and the good people of the pacesetter state for the opportunity given him to serve as a Minister of the Federal Republic of Nigeria from July 2007 to September 2010.
Babalola said, "I wish to place on record that the capacity in which I served was a good match for my experience, exposure and interests as a professional.
"My steadfast dedication to duty during this period was collaborated by the adherence of this administration to the strict application of the rule of law, its anti-corruption stance as well as dedication to service delivery for the benefit of the people of Nigeria."
He also noted that he brought to bear an unusual high level of transparency, accountability, frugality and ability to inspire others to work cooperatively for the common good of the nation.
Meanwhile, the erstwhile minister has placed on record that he has no political ambition or aspiration contrary to the speculation in the public space.
"There is therefore no truth in recent reports that the former minister has governorship or senatorial ambition," a note from Babalola's aide said.