OMOTOLA GOES PLATINUM WITH ALBUM LAUNCH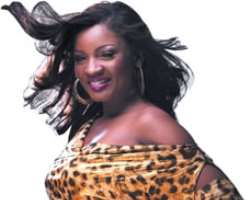 Omotola
Yes, she is an A-list actress, but Omotola wants to be much more than that. She wants to be a singer and a good one at that. According to close sources, she has been rehearsing dance, practicing live performance with over 10-member band in preparation for her new album launch.
With a bitter-sweet experience in 2005 over her debut album, Gba, the mother of four is set to do things right five years after. She went back to studio, redefined the kind of music that she said suits her. 'I am now playing the kind of music I want. I'm a pop singer and it suits me. It is not a popular brand of music in this part. It is for some selected few and I'm glad to say that the few are getting on board with us', she said amidst laughter.
That mindset seems to have paved the way for her mode of album launch. She is doing a two-in-one album. One for selected few and others for her fans. 'Yes, this is about my album, but I wont forget my fans who love me through thick and thin. They are the one I am going to dedicate the second leg of my launch to', she said.
For her 'selected few' audience, the album launch is not free. The actress goes platinum with a price tag of N1 million per table, which comprises of 10 seats. Why that much for an album launch? 'The selected few can afford it', was her answer. The event, which will take place at an undisclosed location in Lagos, will see Omotola perform live and show the world the new dance steps she has learnt from a dance group.
So, how much for the show for her fans? 'It is free. My fans and friends are the reason I am here. They are the livewire of the Omotola brand. The show is free, but they will have to bring a gift for the less privileged. We are launching a charity project, 'Give and Let Give'.
It is a project close to my heart. I got the idea when I realized lots of people have stuff that are no longer useful to them but can be used by others. So, let's all come to Fantasyland in Ikoyi on Sunday, September 26 to dance and show some love', she said. The event will see Omotola perform alongside other notable stars and DJ Bombastic and Spinall has been penciled down to entertain the audience.
Already, the screen diva has released four videos off her yet to be released album. The latest video, Missing You, was shot in South Africa by Mr. Bobby Boulders. Other videos off her new album are Feel Alright, Keep Going and Call Me.