SOS FOR DAVID, HE NEEDS N5 MILLION TO LIVE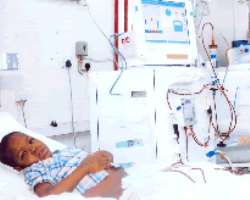 David
The story of little David Opara, eight-year-old primary four pupil of Tonia International School, Orile-Coker, Lagos, is pathetic. He is a little boy with great dreams to touch the sky. But that life aspiration is gradually collapsing contrary to expectation. He is at present critically ill at the Lagos University Teaching Hospital, (LUTH) where he has been diagnosed with chronic kidney disease, (CKD), which was caused by blockage of his urinary tract from birth.
After a surgery in 2007 at LUTH to correct the defect, his plight has degenerated. As it is now, David urgently needs kidney transplant to save his life. So sad.
According to his father, Mr. Opara, the trouble was caused by a blockage of his urinary tract from birth. 'In 2007, he went for corrective surgery at the Lagos University Teaching Hospital. The consultants, peadiatricians and nephrologists in LUTH said his kidneys are damaged and that he urgently needs transplant. Unfortunately, transplant for children is not handled in Nigeria but in India or the United States of America. They said it would cost over N5 million to travel to India, which we cannot afford. The amount is to take care of his pre and post- medical expenses as well as that of the kidney donor,' he said.
On behalf of his family, Mr. Opara is appealing to the government, non-governmental organizations, corporate organizations, churches and kind-hearted Nigerians to please donate and help save David's life.
Donations should be addressed to: Alban Opara, 08023145147, 08063205177.
UBA Account NO: 0006-002-0000-756