HE IS BEST MAN FOR 2011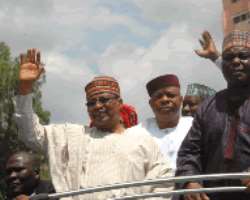 Coming of the heels of the official declaration of General Ibrahim Babangida to contest next year's presidential election, a member of his advisory committee, Dr. Obinna Uzoh, has said that the former military president is the man to beat in the poll.
Speaking at Eagles Square, venue of Babangida's declaration on Wednesday, Uzoh said: IBB is the big masquerade in the 2011 contest. When a big masquerade comes out, the small ones give way. IBB is fully prepared for the contest and we are giving our full support.'
The former governorship candidate and chieftain of the Peoples Democratic Party (PDP) in Anambra called on Nigerians to give Babangida a chance to shape the destiny of the nation.
How would you describe the declaration of Babangida today (Wednesday)?
As you can see, this is an impressive gathering. Politicians and people from all the geopolitical zones are here to identify with IBB. You will agree with me that this is the biggest official declaration for presidential contest so far seen this year. It shows how Nigerians take IBB. It is only a man like IBB who could pull this kind of crowd. That is an indication that many people have bought into his desire to be president.
I must tell you that IBB means business. If you noticed, he arrived the venue of this declaration before 11am. He said that the ceremony would start at 11am and he was already at the venue way ahead of the take off time. That shows you that he values time and knows that government business should be done as scheduled; not a situation where government officials would arrive at events late.
Is that the only reason you are supporting him?
That's just one of the reasons. Some of us are campaigning for him because we know he has a lot to offer the country. IBB has articulated a programme that would put back the country on track. He has a beautify blueprint on the economy, with special emphasis on agriculture, consolidation on the oil sector, among others. He has outlined ways of creating millions of jobs in his first two years. He has promised to implement the Mette committee's report on Niger Delta. He has a programme to reform all sectors, to make them functional. He is planning to wage a real war on corruption. He would bring into governance sound vision, commitment and determination.
To show his honesty, he has promised to serve only one term and I know that he means it. I know that, as he said, with his experience and close monitoring of governance across the world, he is better prepared than any of the aspirants to lead Nigeria at this point in time.
How are you sure that IBB means this one term promise?
This is not the first time he is saying it. He has not only said it but also indicated were his successor would come from. He has pledged to work for the emergence of a South easterner as president in 2015. You don't make such promise if you don't mean it. He knows that the Igbo would never forgive him if he does not abide by that promise. At his age, he would not say what he wouldn't do. If he does not mean it I know he would not have said it. Because I believe him, I am supporting him. I want somebody from my own part of the country to be president in 2015. This will give us a sense of belonging.
Are you therefore asking Igbo to support him?
Of course, yes. Igbo should support IBB. They would gain a lot from supporting him. We should rather support a man, who said that he would erase the marginalization of our people by working for an Igbo president in 2015. This is why I am calling upon Igbo leaders to mobilize our people to utilize this God-given opportunity. I will want Igbo leaders, such as Dim Chukwuemeka Odumegwu-Ojukwu, former Vice President Alex Ekwueme, former Senate Presidents Ken Nnamnai and Pius Anyim Pius; Chief Emmanuel Iwuanyanwu, Arthur Nzeribe, Ike Nwachukwu, Mbazulike Amaechi and others to support a cause that would make one of our own president. These people have, in one way or another, worked for the good of the Igbo. They should work together now to actulaise the full integration of our people, which the election of a president from our area will cause. Former Vice President Alex Ekwueme made personal efforts to be president. He was eminently qualified. He was one of the founding members of the PDP, but he did not make it. I know he wants this dream to come true. Ojukwu also aspired to be president twice. Ike Nwachukwu has also aspired. 2015 is the opportunity to actualize this dream.
Why the Igbo support is important is that in every state, they are in large numbers. Researches have proved that in every state in the country the Igbo population is the second, after the indigenes. The Igbo stay in these places doing their businesses, bringing up their families and contributing to socio-economic development. A people like that deserve more than they are getting in the country. IBB recognizes this and I believe that is why he made his offer.
South East is the first place the presidential primaries would hold. What do we expect?
We hope for the best. We expect Igbo delegates to vote for IBB. The Igbo gave him a title, Oguguo Ndigbo, because they knew he had the best intentions for them. They have to show, in these primaries, that they appreciate what IBB had done for them in the past and also hope for a better deal from him. We are mobilizing our people and we are optimistic that they will not disappoint. We expect to start the victory celebration on October 18, in South East. IBB is best man for 2011 at this point in our national history. He has the experience, connection, vision and excellent programme to turn the country around for the best.