2011: UDUAGHAN DECLARES FOR RE-ELECTION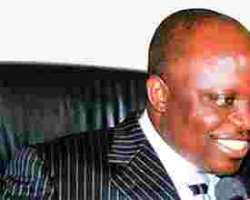 Delta State Governor, Dr. Emmanuel Uduaghan
DELTA State Governor Emmanuel Uduaghan on Thursday declared his intention to seek a re-election in 2011.
This was even as the campaign posters of the President Goodluck Jonathan and Vice-President Namadi Sambo have littered major streets of Uyo, Akwa Ibom State.
Uduaghan also pledged South-South governors' support for President Goodluck Jonathan's candidature in the forthcoming elections just as he asked his opponents to base their campaigns on issues rather engaging in personality attacks.
The governor, who spoke with journalists in Warri amid party supporters and loyalists, was, however, silent on the actual date for the formal declaration.
He said it was ripe for him to seek the mandate of the electorate for the second time having studied the guidelines just released by his party, the Peoples Democratic Party.
Uduaghan listed his achievements in the past three years to include restoration of peace and security to the state, designing of Warri Industrial Park, construction of roads, airports, and improvement in the lives of the people through free medical care for the under five, pregnant women and micro credit facility.
He said, 'The time has come for people to make their intentions known. Only yesterday (Wednesday), my party came out with the electoral guidelines and I don't believe that I should have said anything before the electoral guidelines. I was part of the meeting and I have critically examined the electoral guidelines and I think it is very possible for me to take a shot at the governorship race in Delta State.
''So, I am announcing my intention to run for second term as governor. By doing so, I believe and I do know that in over three years as governor of this state, I have tried to keep faithfully to my three-point agenda of peace and security, infrastructure and human capital development. You will agree with me that since May 2007 and now, the state is better placed.
Uduaghan said that he was opened to a debate, noting that the race was not a do-or-die affair.
On his support for Jonathan, he said the governors of the South-South states had all resolved to work assiduously for his election in the polls, stressing that the President understood the peculiarity of the region more than any other presidential aspirant.
Meanwhile in Uyo, the posters of Jonathan were believed to have been printed by a non-governmental organisation, Re-build Nigeria Initiative.
They have been pasted in popular spots such as Ibom hall, Airport road, Ibom plaza, House of Assembly complex and the government house.
The Chairman, Advisory Council of the RNI, Mr. Charles Inyang, said that the idea was to promote in the consciousness of Nigerians the need to embrace value added politics and not a sentiment oriented one.