Retired Generals Should Allow Young Generation to Rule - Gowon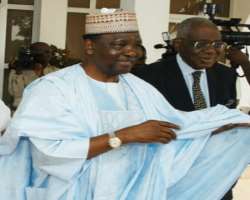 PHOTO: L-R: FORMER HEADS OF STATE, GENERAL YAKUBU GOWON AND CHIEF ERNEST SHONEKAN.

LAGOS, Sept 16, (THEWILL) - As the 2011 presidential race gets hotter, former Head of State, General Yakubu Gowon today asked ex-generals who had once governed Nigeria to quit the stage of political governance for the younger generation.
Gowon gave the advice inside City Hall, Lagos, at the public presentation of a book; Lagos State: My Life of Service with Integrity by the first Governor of the state, Brigadier General Mobolaji Johnson, who turned 74 today.
Such personalities as former Head of Interim National Government, Chief Ernest Shonekan, Lagos State Governor, Mr. Babatunde Raji Fashola (SAN), former Chief of Army Staff, Lt. General Theophilus Danjuma, former Governor of South-West Region, General Adeyinka Adebayo was among others who commended the author for an exemplary life and meritorious service.
Gowon explained said those (apparently referring to former military heads of state currently contesting the 2011 presidential election) who had opportunity to rule before should make way for the younger generation.
"Those of us who had the opportunity to do it before should look and set our minds to the future generation. But if anyone has that ambition to contest, such person should let the public be the deciders. They have the right to do so. Those who want to come back can come if they want to. But let us practice democracy. At least, Nigeria is still together. Whatever the deficiencies we have simply shows we can work hard and do away with the deficiencies. The most important thing is that this nation has remained one and united. It is true despite whatever problem that we may have," General Gowon said.
"So I wish Nigeria well as she turns 50. I am delighted that we have been able to keep this nation together as one and being able to celebrate 50. On the leadership problems we have, every country has leadership problem. Nigeria is not different as long as we are able to resolve it," Gowon added.
Speaking at the presentation, Shonekan acknowledged that the country was faced with a myriad of challenges ranging from politics to economy, infrastructure, security, education and other critical sectors.
"As a country, we have had so many challenges. But we have been able to surmount them on our own, so we need to thank God for that," Shonekan said.
He therefore suggested that the present leadership of the country should learn from the mistakes of the past and prepare the present and prospective generation for the upcoming challenges.
On his part, Governor Fashola said the occasion was more than a book presentation, saying the presentation was part of nation building considering the significance of Brigadier General Mobolaji Johnson's book.
Fashola added that there was a bid vacuum of how Nigeria was built and how Lagos State was built, saying the book would fill a major lacuna in the history of Lagos State because General Johnson explained how the building of Lagos started.
Brigadier Johnson thanked God for sparing his life and giving him the privilege to make substantial input into the process of political governance and nation building.
Johnson said he was lucky to be alive considering different challenges he had faced after the military government took over in 1975. He said he did not have a house of his own then, but Messrs Julius Berger came to his rescue when nearly everyone had gone away.
He expressed profound gratitude to his wife, Funmilayo Mobolaji-Johnson, his children and Julius Berger family for significant support he said they gave him at different critical times of his life.
Other personalities at the book presentation were former international jurist, Prince Bola Ajibola, former Lagos State Governor, Alhaji Lateef Jakande, former Inspector-General of Police, Alhaji M.D. Yusuf, former Chief of Defence State, Vice Admiral Mike Okai Akhigbe and Ambassador Segun Olusola.