PETER DISAPPOINTED ME – TARIBO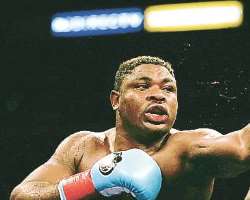 A former Super Eagles defender, Taribo West, has expressed disappointment at the defeat of Nigerian boxer Samuel Peter by WBO Champion, Wladimir Klitschko, at the Commerzbank Arena in Frankfurt, Germany on Saturday.
Peter, nicknamed the Nigerian Nightmare, was floored in the 10th round of the fight by the powerful Ukrainian pugilist.
'I was disappointed that he (Peter) lost on Saturday. Every Nigerian was behind him to win that match but its unfortunate he lost. Personally, I felt he should have won the match because of the kind of boxer we know him to be,' the former AC Milan hard-as-nails defender said on the telephone on Wednesday.
Taribo however believes the former WBC heavyweight champion can still bounce back to global reckoning.
He said, 'As a boxer, he (Peter) will live to fight another day. He shouldn't consider retirement because the younger generation of Nigerian boxers are looking up to him.'
'All he needs to do is to improve himself so that he can rule the world again. He needs to be more determined, work harder and show more enthusiasm in his next fights.'