Abuja Filmfest celebrates Nigeria at 50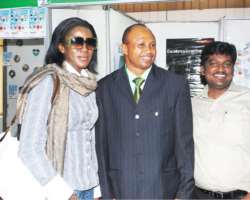 The seventh edition of the Abuja International Film and Video Festival will hold from October 26 till 29 at the Silverbird Galleria, Abuja. Themed 'Celebrating Naija @ 50 through Cinema' to commemorate Nigeria's independence, the festival will examine the cinema industry in the last 50 years.
This year's edition is organised in conjunction with industry stakeholders namely: the Federal Ministry of Information and Communication, the National Film and Video Censors Board, the Nigerian Film Corporation, the Nigerian Intellectual Property Commission, and the Nigeria Television Authority.
It also proposes to continue with its previous vision of 'Youth Empowerment in Motion Pictures', calling for the participation of university students who will be involved in seminars, workshops, and production of their own film works.
30 film entries have been shortlisted for screening at the festival. The films fall under categories including: Feature, Animation, Short Films, Experimental Films, and Documentaries. Some of the entries at the festival this year include international works like 'Revenge' (Brazil),' Crab Trap' (Columbia), 'Lost Times' (Hungary), 'My House is Cloudy' and 'In a Revenge Zone' (Iran). From the Nigerian movie stable comes offerings like 'Corporate Maid' by Ikechukwu Onyeka, 'Adventures of Alayo' by Olarenwaju Oluwafemi, and 'No Jersey, No Match' by Daniel Ademinokan.
The festival, which is billed to open with a cocktail event on October 26 at 6pm, will also incorporate a Copyright and Intellectual Property Day, in collaboration with the Nigeria Copyright Commission; as well as a festival market, which shall feature exhibitors from different sectors of the motion picture industry, both locally and internationally.
The Film Festival, founded in 2004 by film maker, Fidelis Duker, has in its past six editions recorded participation of over 20 countries and attracted entries from about 50 countries worldwide. It has also featured the works of Nollywood directors like Fred Amata, Jeta Amata, Paul Obazele, Chico Ejiro, Zik Zulu Okafor, and Segun Arinze, among many others.