Mimiko, Jerry Gana offer solutions for 2011 general elections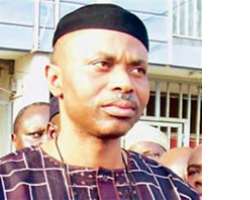 Olusegun Mimiko
  As Nigerians prepare for the 2011 general elections, the Ondo State governor, Dr Olusegun Mimiko and former Information Minister, Prof Jerry Gana have proffered solutions that would make the election a success and put the nation on a sure footings. Both spoke in Iju, in Akure North Local Government Area of Ondo State at the Forum for Good Governance organized by the Reconciliation House Assembly as part of activities marking its annual convention at the weekend.
While Mimiko who was the Guest of Honour at the occasion warned that the electoral umpire, the Independent Electoral Commission (INEC) and the Nigeria Police must make a clean break from their actions during previous elections especially the 2007 polls to save democratic rule in Nigeria from avoidable collapse, Gana posited that to sustain democracy and have good governance, stakeholders must obey the rule of law and due process. He equally challenged President Goodluck Johnathan to put in place credible election next year. 
   While analyzing the situation in the country's political landscape, the Governor took a swipe at the undemocratic happenings in the current dispensation also canvassed for a two-party system to make democracy work in the country.
    His words: "The number one thing that must be done is that people must be involved in the democratic process; it must be a mass movement, we must all go out and get involved. We must make it clear to the existing election institutions in Nigeria, INEC, Police and that is very crucial, the Police, under whatever guise, must not provide cover for brigands that come to disrupt elections.
    "What we have now in Nigeria is civil rule, we would be deceiving ourselves to say that we have democracy, let us look at our elections especially the last general elections, how many of our people holding elective positions can boast that he or she was democratically elected into office? I know a person in the National Assembly today who did not score 50 per cent of the votes he claimed to have given him that position.
    "Things are not still well with Nigeria, I have come to the conclusion that until we all get involved in the process, we may never get it right, we must stand up to fight poverty. Again I have my fears about 2011 elections; from my own personal experience, we spent 90 per cent of our time and resources planning how to prevent rigging of the election, we had little time to sell ourselves to the people, so, if you allow charlatans to take over the mantle of governance, then we are doomed.
    Dr Mimiko also spoke on the way forward in the march towards democratic greatness in the most populous black nation in the world. Saying: "There are still structural problems. We must devolve power from the centre; else it will continue to be attractive. The reality in our country today is a one party system which we must move away from. Look at June 12, it was not an accident of history, if it hadn't been for two parties, there won't have been June 12. Until we have two strong parties decreed by legislation, the political life of Nigeria may remain problematic.
    "Now that we are entering the voters' registration period, if all righteous voters in Nigeria register today and decide to vote for credible leaders, we would surely have good governance in the country. My advice is that the church must move away from the era of docility to political activism, we all must say no to political brigandage running in this country, if we fold our arms believing that politics is for people from the other realm, the problem we are trying to tackle will persist.
    While delivering a lecture on "Path to Good Governance in Nigeria", former Minister of Information, Prof. Jerry Gana blamed the weak opposition in the polity as well as ineffective checks and balances as some of the causes of lack of good governance being experienced in Nigeria.
    He said: "To sustain democracy and have good governance, stakeholders must obey the rule of law and due process, we must build conscious and well-organized civil society to hold public office holders accountable to the electorate, political parties must also take their responsibilities seriously because the parties in this country now are too weak unlike the situation when parties were strong in the Second Republic, the African National Congress had been in South Africa for over a century and it has continued to wax stronger, we don't even have good party formation history in Nigeria, all these anomalies must stop now for the sake of our country.
    "2011 elections will be a test case for President Jonathan who has promised us free and fair elections. Freedom of choice is a crucial cardinal of democracy, if there is no free and fair election, then democracy is dead, the logic of such poll actually transcends the basic demand for human rights since it confers legitimate authority on elected leaders which is extremely vital to good governance."