ECHOES OF NOTTINGHILL CARNIVAL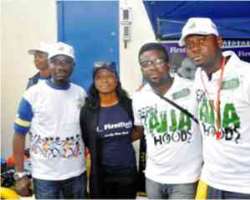 L-R: Opayemi; Mumuney; Filmakers: Kunle Afolayan and Ayo Shonaya
Many Nigerians that thronged the Naija Corner at this year's Nottinghill Carnival in London are still savouring the experience, welcoming every thought of it with a smile and silently praying for another carnival year to come soon. Their excitement is understandable.
For the past 15 years, Nigerians have been a visible group at the carnival but have been even more so in the last couple of years, thanks to a growing army of young Nigerians who understand the tourism potentials of Nigeria's visibility at the carnival.
Hosted by Sodium Brand Solutions with support from First Bank of Nigeria Plc and the Lagos State Government, this year's carnival was even more colourful, what with a roll call of Nigeria's finest entertainers like TEE A, Julius Agwu, Princess, Helen Paul, Funke Akindele, Banky W, Femi Adeyinka and 9ice, among others. Beyond the revelry and networking opportunities, the Naija Corner became a veritable platform for business transactions especially for the First Bank team which presented a bouquet of products such as Mortgage facilities for the Diaspora community to guests, while Lagos State Government officials offered land and housing schemes available for acquisition by mortgage to interested Nigerians in the audience.
The Chief Marketing Officer, First Bank of Nigeria Plc, Folake Ani-Mumuney, explained the bank's involvement with the Nottinghill Carnival was not only a demonstration of partnership with Lagos State Government but also a strategic move by the bank to continually make it friendly to the old and the young alike.
For the event consultant and chief strategist, Chain Reactions Nigeria, Israel Opayemi, 'Nothing better explains First Bank Nigeria Plc's position as Nigeria's most profitable bank than their instinct to perceive business opportunities where others can't see one. Nottinghill Carnival is an eight hour economy only savvy business people such as our corporate partners at First Bank can see.'