TEEN STABS MAN TO DEATH WITH BROKEN BOTTLE – I DIDN'T KNOW HE'D DIE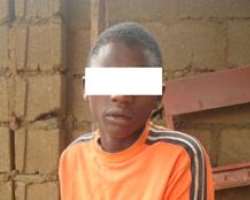 The Jabi Forest Unit Chairman of the National Automobile Association of Nigeria (NATA), Comrade Joseph Ajayi under which Wasiu was an apprentice also spoke to our reporter. 'The Wasiu family requested that the corpse be sent to them in Kwara, which we have done.'
'Many of us sleep here because of accommodation and traffic issues and have at some point or the other encountered such situations. About a year ago, one of us, Peter Oladipupo, narrowly escaped death in the exact way Muftau died. He was almost stabbed, but he dodged the knife which bore a hole in the zinc where the scavengers tried to steal from.
'The chairman of the scavenger union was swift to act and immediately brought the three suspects to the police once we made our case before him. We are discussing with him at the moment on how best to control events before they escalate. They attack not only us in this unit but also mechanics in other places. They steal from us even in broad daylight. A few days before the incidence, a food vendor was beaten up by one of them because she confronted them over her plates. In as much as we appreciate that being a scavenger is as a result of unemployment, we would like the authorities to look into their activities and address the situation,' Comrade Ajayi said.
As at the time of filing this report, investigations were still underway and no conclusive decision regarding Bello's situation was ascertained.