2011: Our Task Challenging But Surmountable – Jega, Retires Two Directors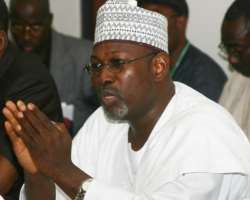 PHOTO: INEC CHAIRMAN, PROFESSOR ATTAHIRU JEGA.
ABUJA, Sept 02, (THEWILL) - The Chairman of Independent National Electoral Commission (INEC), Prof. Attahiru Jega today accepted that the commission's task to ensure a free and fair election is quite challenging, but assured that the task is surmountable.
Professor Jega stated this when the Minister of Women Affairs, Mrs. Josephine Anenih led other women groups on an advocacy visit to INEC headquarters, Abuja.
The Minister was in INEC to press for better deal for women stating that women are marginalized as far as political office sharing is concerned.
But Jega said that no matter the way one looks at it, women issues are cultural, historic and even religious with systematic traditional practices, adding that INEC will however see that things are put in their proper perspectives to correct the imbalance.
"We shall ensure a free level playing field, and that is why we are saying since there are internal democracy enshrined in the constitutions of the various political parties, INEC will make sure the parties abide by their constitutions," he said.
He assured the minister that INEC would ensure equity but that the commission was collaborating with all stakeholders to make sure it succeeds in conducting free and fair elections, as it could not do it alone.
Earlier, Mrs. Anenih told Jega that for women to be politically relevant, they need to be adequately and politically represented but regretted that the situation is far from reality.
Anenih said even though "Affirmative Action for Women" is encouraged, Nigeria's rating on gender issues remains below 10 percent stressing that there are only six female Senators in today's Senate out of a total of 109, while there are only about 26 women representatives out of the total of 360 members in the House of Representatives.
She further said that there are about 1,002 Legislators in the 36 State Houses of Assemblies National wide, out of which only 53 of them are women", regretting the serious deficit in the numbers.
She however said that to correct the imbalance, her ministry organized a national summit and rally on women's participation in politics with a resolution to work with political parties to increase the number of women in party leadership, form a united, homogenous voting bloc and to identify and work with gender sensitive individuals and political parties.
She said her ministry and women groups have embarked on sustained advocacy and sensitization visits to state governors for the purpose of courting their support for the emergence of more female candidates for 2011 general elections among others.
Meanwhile, the much expected in-house clean up of the electoral has started according to a source familiar with the development.
The Deputy Secretary (Public and Election Observation), Mr. Steve Osemeke and Deputy Secretary (Administration) E. A. Johnson have been forced to retired from INEC.
The retirement of the duo is courtesy of the federal government directive of August 2009 which forced retirement on Permanent Secretaries and Directors who would have spent eight years in a particular office and occupying same position by January 01, 2010.
The former INEC Chairman, Professor Maurice Iwu had curiously, ignored the rule while he ran the electoral commission.
With this development, others likely to be affected by the rule include Deputy Secretary (Operations), AbdulRahman Madaki; Mrs. M.E. Ikwunja; Tijani Kolo; Dahiru Ibrahim; Mustapha Kuta; Sampson Akpan; and Mrs. O.O. Adejumo.
The Administrative Secretaries/Directors at INEC state offices who may also be forced to disengage from the electoral commission are: Nadabo Usman (Sokoto); Mrs. Edwins Ene (FCT); Jafaru Gabdo (Bauchi); Umar S. Aliyu (Nasarawa); Muktar Aliyu (Zonal Director-Minna); Musa T. Kuta (Plateau); Michael S. N'Allah (Kebbi); Anthony Agbache (Delta); P.T. Olagbende (Ondo); Lawal Jar (Zonal Director); and Dr. Aniemena Chukwudi (Zonal Director, Port Harcourt).