I'VE RESTORED MINT ON THE PATH OF PROFITABILITY – OKOYOMON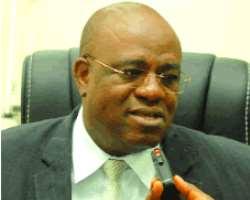 Ehi Okoyomon
The Managing Director and Chief Executive of the Nigerian Security Printing and Minting Company (NSPMC) Plc., Engr Ehi Okoyomon, said he would like to be remembered as the chief executive who restored the fortunes of the organization after the years of the locust.
'I have put the company on the path of growth and profitability. I like that as my legacy when it is time for me to leave here.' Okoyomon, who is our Chief Executive Officer of the week, also spoke on other issues relating to the operations of the company.
Mint over the years
The organization was established over 40 years ago with a mandate to print Nigeria's currency and security documents, particularly for the government and the private sector. So, in that way, it is supposed to be printing things like currency, also minting coins and other security documents and secure ID solutions, cheques, passports, stamps and any other things that is of high value and high security. Anything that requires high document security, including ballot papers for elections. Those are some of the things we do.
Before you came on board, what was the status of Mint?
Government, not by an act of parliament, established the company. So, it is not by statute. It is a company registered under the Company and Allied Matters Act (CAMA). It is not a government agency. We had foreign interest by a company known as De La Rue in the United Kingdom. They owned up to 40 percent at a stage in the company's life. Ministry of Finance Incorporated (MoFI) owned certain percentage shares, and Central Bank has 20 percentage at that time. But the company has grown and metamorphosed over the period of time and MoFI shares have since reduced.
The Bureau is now operating the shares owned by the Federal Government through MoFI for Bureau of Public Enterprises (BPE). They have shares in the business. The Central Bank in year 2005 acquired more shares of the company from the BPE and some were also acquired from De La Rue of the UK. And so that increased the share holding of the Central Bank. They are the majority shareholders of the company, as at today. We still have De La Rue as shareholders of the company.
A foreign interest in a company like this, how safe is it?
As I said, it is a company registered under CAMA. It is supposed to be a high security company. When De La Rue had substantial shares, they were also the technical partners to the company and they have maintained their shares up till today but not to the significant proportion that they had many years back.
Are you comfortable with CBN importing currency and INEC also importing ballot papers?
Ideally, we look forward to a day when all the requirements will be printed locally in Nigeria. But I can tell you that that is not the case today. Nigeria like you know is a huge cash society. The amount of cash we handle in this country is comparable to the United States of America. We are between third and fifth in the world. We have the United States, India, China and perhaps Indonesia. Those are the only ones who use more cash than us. We use so much cash. Somebody wants to buy a car, he goes in cash. So, the volume of cash required in this country is so high. That is why the CBN is putting more money so that we can acquire more capacity to meet with the demands of Nigeria. At the moment, the demand for cash in Nigeria is put at roughly four billion bank notes per year where as Ghana uses about 500 million bank notes per year.
So, Ghana uses about one-eight of the cash that we use. We use a lot of cash and that puts a lot of strain on us as a company to produce all that cash. Depending on the cash cycle, if we are producing about three billion out of that four billion, sometimes the demand is less than four billion, when that is the case, we are able to meet it. But when it is more than four billion, we are unable to meet it. But the board of the company has put in place a programme for us to acquire more capacity so that the company can print a minimum of four billion bank notes every year. In that case, there will be no need for us to import again.
There are allegations that Mint is under-performing. How true?
I don't think so, not at all. Mint is definitely not under performing. Mint is indeed performing very, very well. How many companies and organizations in the country today that has government interest are still making profit? Is it Nitel? Nigeria Airways is gone. But the Mint is still surviving, making profit and waxing stronger. If you check our financials in the last five years, we've had year-on-year growth.
That, for me, is quite phenomenal. A company that does not get any subvention from anybody. We stand alone, we are a self-funding organization and we fund ourselves like any other business in Nigeria and we are growing year-on- year, our shareholders are getting the result of their investment. So, for somebody to say that Mint is in trouble is completely false. The Mint is not in trouble. The Mint is doing very well and the Mint is going to do better. We know that there are opportunities for us to improve like any other organization. And our determination is to keep improving. We keep shifting the goal post so that we can keep improving.
To what extent can one say that the reorganization in Mint has enhanced the growth you are talking about?
The Mint had its fair share of problems like any other company some years ago. We know of some companies in the Stock Exchange that have had there trying times. The Mint also had its own share of trying times. We've gone beyond that, we are waxing stronger. We are embarking on an expansion project at the moment and things are looking up. We think things can only get better.
Describe Mint as at the point you came on board
As at the point I came in, the Mint was going through very difficult times. That actually made the Central Bank to invest, to think of taking over the company. There was actually an initial plan mooted by the government for foreign interest to take over the company. But the CBN decided that it was in their own interest if they invested in the company and kind of give a different set of management to the organization. It was not doing very well at that time, it had its own problems and it was in a very bad state by the time we came in. We had major financial problems. We are happy to say that our shareholders have faith and confidence in us. Our employees took the bull by the horn and they have been able to perform very well so the company has been turned around completely.
And the public?
Well, public confidence is increasing every day. But because of what had happened in the past, some still say that this place cannot be bought over. Institutions like the Independent National Electoral Commission (INEC) entrusted their ballot paper business to us in 2007 even when we indicated that we were not interested but they knew that with us they could get some security.
Even if we needed to sub- contract the ballot papers, we were going to project- manage it very well. And that was what we did within the short time frame that we were asked to make available 460 million ballot papers. We did it on time, within specification and on agreed terms with INEC. We are quite proud of that.
We have concentrated our development effort and turn around in two different phases, the first phase looked at currency by which I mean bank notes, coins and stuff like that. We looked at it. We think we have achieved success. We are looking at the other side of the business, the security document side. That is where the public interacts with us is more often. So, that is where they want to know what is happening. On the currency side, we have boosted our volume, we are having a full-scale quality improvement programme now and our intention is to have ISO certification.
What are your projections and timelines?
What the board of the Mint is committed to is to the development project of currency by the end of 2011 when the new investment would have taken place hopefully by the end of that year. We would have finished what we are doing and efforts would be concentrated on security documents. However, I cannot give you a timeline because we need to work with other agencies of government and some other interested business partners.
It is when we enter into full agreement that we can develop a strategy to deliver on that. For instance, if we say we want to print all the check books and bank drafts of a particular bank, we need to have an agreement with the bank before we do that. At the moment we are trying to put the facilities in place before approaching the banks.
You said you are a solely self- financed company, are you a publicly quoted company?
We are a public limited company. But we are not quoted on the stock exchange.
Are you privatised or commercialised?
We are not yet privatised. We are commercialised I would say because everything we do is commercial. We bid for jobs and projects with international bidders without any preference whatsoever. That's why you have a good management team in the company so that we continue to perform.
Your strategy for success
Well, I heard substantial training in the private sector. I've been in the business of manufacturing in the last 25 years. I know how to run an organization in such a way that the necessary agility in the business you can put it in place as well as the customer focus that you require, basic things like respecting the ability of the employees to make a contribution, respecting the rights of the shareholders and other stakeholders as well as generating sufficient efficiency in the system in order to create the value that is required in the business.
On human capacity
What I would say is that there are some staff that are good and some that are not so very good considering the business we do. So what we do is to build capacities, send them on training programmes for those who are trainable. We try to fit square pegs on square holes. Somebody may be good in one side of the business but is working on another side of the business. You take him into where he can be more useful to the organization. That's what we try to do. But those who cannot make it, we exit them in a very humane manner.
Your major constraints
Doing business in Nigeria is quite tough because there are so many challenges. As we are now, we have to provide our own security and we are a high security company. Therefore, security is essential and we are spending a lot of money to guarantee that security. We are spending so much money on utilities, power, and waste disposal, effluent treatment. It's so much. Things that are not core business.
They are a distraction. You spend so much time on these things and, of course, the other distraction is the politics because people see the company as a purely government company, a place they can come and have their share of the national cake. And that could be very distracting. It takes you time to engage these stakeholders and make them understand that this place is no longer business as usual. If we don't run this place professionally, we will sink. Therefore, for us in management, we must run this place as professionally as possible. Otherwise, if you run it like any other organization where people just mess around with finances and revenue it is going to collapse.
Are you referring to some form of outside interference?
As much as possible there is no business that will not get any interference. But we try to minimise it.
From who or where?
From so many people, from so many quarters within Nigeria- politicians, traditional rulers, government officials, the press. It's one of the challenges of doing business in Nigeria. Over time you get used to it. It is just that it is a distraction to efficiency.
How are you confronting the challenges you face?
We have a Board of Directors that is very supportive. The board is highly professional made up distinguished lady and gentlemen who have served both in public and private sector and they understand the dynamics and intricacies of doing business in Nigeria. They have been very supportive I must say. That has really helped us. We are a focussed board and management team. We have quite a number of distractions and detractors. But we are not perturbed.
What or who may they be, these distractions and detractors?
For instance, the board wants to do certain things but some people are more interested in the politics of what the board wants to do because they see us as a government company. This kind of thinking makes us not to run like a typical private sector company that we are. So, you cannot have the agility, the speed that you expect in a private company. You can't get it here because you still have to obey government rules. So, it could be challenging.
Are you a government appointee or you came through competition?
I am not a government appointee. I came in through a selection process by the board of the company. I didn't come on a political platform at all.
Why are you concerned about the politics of the business?
Yes, because the politics affects the business. There is no business that lives in isolation. You need to influence your environment; you need to influence the lawmakers. You need to influence the customs and immigration in a positive way to see things from your point of view. For instance, if you have your goods at the ports, and you have unfavourable policies there, it is going to affect your business. In those situations, what the private sector man will do, I can't do it as a public sector man. It is like an identity crisis. Some see us as private sector and some see us as public sector depending on what is convenient for the person at that time.
What is your relationship with these government agencies?
Part of my job is to build relationships. I have been building good relationships with them. It was initially tough. But today, I have good relationship with all of them because relationship is what makes my business to thrive. I get support from them and they also support me. We also support their organizations too because it is a relationship that would be mutually beneficial for both my organization and their organization. So, it's quite good.
You said this place is thriving, how?
I'll give you an example, we had a mini printing press that was donated to the EFCC and EFCC handed it over to us because they felt this is the right organization that can use it. And in return, we are doing certain things for them. For us that were a very good gesture from the EFCC because they received that from the European Union. And thinking about Mint as a company they can partner with, for us it was quite motivating.
Do you print notes for CBN as its subsidiary, or is it just a business relationship?
CBN deals with us on contract. Remember I told you earlier that we bid for the jobs. The CBN is a very disciplined organization. They don't treat us with kid gloves at all. They treat us like every other customer, every other supplier. So, we are suppliers to CBN. There are other foreign companies that are suppliers to CBN. So, we bid internationally. However, because we are a Nigerian company, they know that certain things are easier with us. They relate with us. In some of the things they do, they also relate to foreigners depending on what is good and what is in the interest of the CBN. So, the CBN does not treat us as their baby company, no. They treat us like another organization, an independent organization. They want us to achieve that level of efficiency to perform. That's what CBN wants.
How do you see your relationship with the CBN?
Very good because they are our customers and it is our responsibility to treat our customers very well. If you don't treat your customers very well, they will take their business elsewhere. It is in our interest that we treat CBN very well and that's what we do. We try as much as possible.
What is your relationship with Independent National Electoral Commission (INEC)?
We did a lot of work for INEC in 2007 and we are proposing and hoping to do some work for them during the 2011 elections. We had preliminary meetings with INEC and our discussions are going on well. That's all I can say for now.
Assuming they give you all their jobs, can you cope?
Sure, why not. We can. We've done it before. We will do it again. Actually, that's what we are waiting to hear. That's the good news we are waiting to hear.
But, sir, there was a time they went to South Africa to print their ballot papers. Was that a vote of no confidence on you?
No, I don't think so. There were a number of challenges. Don't forget that the court included the name of the former Vice President, Atiku Abubakar to contest the election less than a week to the election. INEC looked for ways to get ballot papers to beat the deadline. They actually liaised with us and the Ambassador to South Africa. INEC on their own might not know where to print such high security documents.
They worked with us, we told them that, under the circumstances, Mint couldn't produce 64 million ballot papers numbered and printed and perforated in three days. Impossible. We couldn't have done it. In fact there is no one press that can do it. So, we had to share it to so many people in order to meet that deadline because of the court judgement.
What do you consider as your major achievement as MD of Mint?
My major success is turning around the Mint. I know where it was before; I know where it is today. We achieved more that 250 percent of what was achieved before. Up till 2005, we were not producing one billion bank notes. Today, we are producing nearly three billion. Employee motivation is high. All the financials of the company, the balance sheet side has doubled. Our profit has more than doubled. All the financials are looking in the right direction. That development is very gratifying and it makes me feel happy. One feels a sense of accomplishment. We have successfully turned around this company.
And your staff are happy?
To the extent that they will be happy. There is no company in the world where the staff are 100 percent happy. That's why we do employee survey to find out. And typically in Nigeria, every employee wants more money that keeps coming everyday. That does not mean basically that they are not happy. We have very low labour turn over rate in the company because they are proud to work here. They are proud to be associated with the Mint.
What's your staff strength?
Our staffs are over 1000.
Any other constraints?
We've a few challenges. Policy instability, exchange rate fluctuation. In terms of policy fluctuation, the National Assembly came up with the Public Procurement Act that says that you cannot pay more than 15 percent as down payment for any business or contract. Whereas most of our suppliers, most of the things we do, a lot of our inputs are from abroad and they want your commitment, they want you to pay before they send in their goods.
You either pay 100 percent letter of credit or sometime they say give us 40 percent as down payment. But the law says you must not do more than 15 percent. Those are constraints. You keep going around looking for ways to get the foreigners to understand. They don't want to understand. I mean if you are going to use 100 percent down payments for every thing, the volume of money will be so much. We don't get 100 percent down payment from our customers. We are paid after delivery. It puts some financial strain on you.
That demands for 100 percent down payment, is it because they don't trust you?
They don't trust you. No foreigner trusts you. They don't trust us. They insist on fully confirmed letter of credit. Those terms are not the terms other people get from other places. Therefore, their goods will be cheaper than yours.
For you to be able to finance 100 percent down payment, you have to get money from your bank. And our interest rates are not exactly low. These are the challenges, but we have to survive. And in the midst of all that, you have some huge security situations and you want to quickly fortify your premises to ensure that nothing untoward happens here. You invest in high security gadgets, new methods of policing that is quite challenging. And for us security is our main selling point.
What is the percent of local content?
It is difficult to say the exact percentage but a lot of our inputs are foreign. The inks we use, some of the pigments come from abroad, and we also do get some locally. The papers we use all come from abroad because it is high security paper and there is no paper mill that can produce for us in Nigeria. It is actually cotton-based paper. It is not what is readily available in Nigeria. Some of the chemicals come locally and of course labour is local.
Projections for the future
We are looking forward that by the year 2011, we can acquire a capacity of four billion bank notes so we will nearly eliminate the importation of bank notes. However, if you want to call the five billion bank notes in circulation and you want to change all of it immediately, we cannot guarantee you that because our four billion capacity is for a year, it is not a capacity for three months. If you are taking a decision that you want to do this now, it becomes difficult. But if you plan it to say that by next year we are going to be doing this, let's start producing gradually, we can do it. We are looking forward to being a one stop high security-printing solutions required in the country.