YOU CAN'T PREDICT OUTCOME OF PRIMARIES NOW – IBB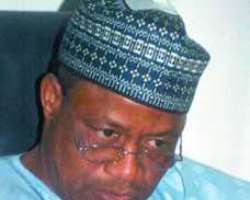 The Director, Media and Communications of the IBB Presidential Campaign Organization, Prince Kassim Afegbua has said it is too early to predict what the outcome of the yet-to-be-held primaries of the Peoples Democratic Party (PDP).
Afegbua made the assertion in a statement against the purported endorsement of President Goodluck Jonathan by members of the South-west PDP. He stated emphatically that the purported endorsement 'does not reflect the actual permutations on ground.'
While urging the teeming party members and would-be delegates to the 2010 presidential primaries of the PDP to ignore the report, the organization's spokesman stated that that it was too early for anyone to declare the results of an election that has not been held, let alone determine who holds the ace. 'Given the sophistication of the South-West, we are of the belief that the delegates would express their preference for IBB to any other aspirant bearing in mind that the issue of zoning is one principle that cannot be ignored,' Afegbua pointed out.
The statement read thus: 'The reported endorsement of the undeclared intention of President Goodluck Jonathan by the South West PDP and non-PDP members does not reflect the actual permutations on ground. The South West is no doubt a politically sophisticated and enlightened zone comprising distinguished Nigerians who are well familiar and at home with the political dynamics of the country. It is therefore unlikely that such distinguished, enlightened, civilized and politically conscious people would reportedly concede to the endorsement of an aspirant that had neither declared nor made public his intentions. We suspect that someone is trying to be smart by half.
'Former President, Olusegun Obasanjo, who is the Chairman of the Board of Trustees of our great party has repeatedly said that he and other party chieftains would maintain their neutrality to all aspirants but would exercise their rights to vote at the primaries for any aspirant of their choice. The recent reported endorsement of President Goodluck Jonathan who has not declared his intention to run defeats the earlier neutrality position of former President Olusegun Obasanjo on the choice of aspirants.
As one of the leaders of the party, a former President and elder statesman, we expect that his word should be his bond. We will not be drawn into any argument with those who easily suspect the political moves of former President Obasanjo, but we insist that a true leader should stand by his word.