NUP ENDORSES FASHOLA FOR SECOND TERM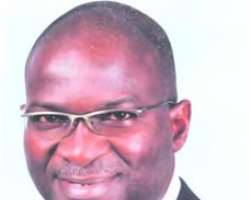 The Nigeria Union of Pensioners, Lagos State chapter, has called on the State Governor, Babatunde Raji Fashola, to declare his interest in contesting next year's gubernatorial election.
Pledging the union's unalloyed support for the project to Daily Sun in Lagos, Chairman of the union, Alhaji Nojeemdeen Ibrahim, explained that their aspiration was based on the excellent performance of the governor and therefore reasoned that 'one good turn, deserves another.'
Alhaji Ibrahim further explained that Fashola had been good to pensioners and that they believed that he would do even more for them if he was supported to continue in office.
According to Ibrahim, before Fashola came into office, 'pensioners had suffered untold hardship due to non payment of our pensions for six years. However, shortly after coming into office, Fashola paid three years of our accumulated six-year pension arrears. I mean the 142 per cent increase on pension and ever since, he has not defaulted in paying us as and when due'
Ibrahim also explained that apart from their paid pensions, Fashola had turned Lagos around and done very well in all sectors of the state, citing several road construction projects, drainages and waste management.
Echoing similar views, Lagos State patron of the pensioners, Alhaji Rasheed Olu-Ajayi, said the union believed that Governor Fashola had done very well and had taken the welfare of senior citizens serious by paying their pensions on time, providing them with free medical treatment and giving them foodstuff during festive seasons.
'We are speaking out now because of the rumour making rounds that some influential people in the state are planning to stop Fashola from contesting in the election next year. We believe that any person nursing such thoughts does not have good intentions for the state.'
Reminded that Fashola had not even declared his interest in running for re-election, Olu-Ajayi said perhaps the time was not yet ripe, adding 'We want to urge him to declare his interest now. We are not interested in their politics but if we fail to speak out in support of the truth, our grandchildren will not forgive us. Lagos had never had it so good. We want Fashola to continue in office; that is the best thing that could happen to Lagos State.'
On what the pensioners would do if Fashola was prevented from running or decided on his own not to, Olu-Ajayi said all pensioners in Lagos had perfected plans to meet that possibility but preferred to keep it under wraps for now
'We believe he will contest and urge him to do so in the over all interest of the state. We have no doubt that he would win. Lagosians are rooting for him to declare his re-election bid now. Fashola should not hesitate any longer, he has greater support than those planning to abort his second coming,' Chief Olu-Ajayi said.