ATIKU'S POLITICAL QUAGMIRE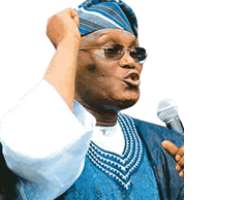 I was pleasantly surprised when Alhaji Atiku Abubakar declared for 2011 presidential race on Sunday. He had proceeded to roll out his programmes as if everything was normal, as if the grounds were level, as if in fact, he planned to win the race. Indeed, for any race, a serious prospect of winning is supposed to be a necessary desideratum that should propel contestants into the race. But in this race, I think Atiku is working hard in a game of futility. In other words, his candidacy is dead on arrival.
Don't get me wrong. Of all the candidates in the race, Atiku probably has the longest democratic credentials—note that I didn't say the best candidate. But, then, the 2011 presidential race is not even about the best candidate, much less about democratic credentials. Since 1979, Chief Olusegun Obasanjo had already enshrined the concept in our system that the best candidates should not necessarily win elections in Nigeria. You may recall how Obasanjo admonished Dr. Nnamdi Azikiwe, Chief Obafemi Awolowo, Alhaji Shehu Shagari, Alhaji Waziri Ibrahim and Mallam Aminu Kano to accept whatever was the outcome of the 1979 presidential election because in electoral contests, the best candidates don't necessarily have to win. Question was, why not the best candidate?
The other enraged candidates accused him of preparing the ground for the massive electoral heist that saw the NPN's candidate, Shagari winning the presidential trophy at the expense of the better prepared and qualified veterans like Zik, Awo and even Aminu Kano. Since then, that pernicious philosophy has turned out to be a political credo which Obasanjo who happened to have dominated our executive political space more than any other living person, had imposed like a hangman's noose around the nation. After eight years of the longest transition in human history, General Ibrahim Badamosi Babangida had a chance to break that noose, when he conducted what remains the freest and fairest election in which the best candidate, Bashorun M.K.O. Abiola, decisively won. But Babangida swiftly tightened the noose by annulling the election, paving the way for the dark-goggled monster, General Sani Abacha, to hold the nation in his talismanic thrall for another five years!
After Abacha, Nigeria became a veritable garden for anything goes type of leadership. The 1999 election, for instance, threw in all kinds of misfits, nitwits and even lunatics into high political office as governors, senators, legislators and local government chairmen. (For the first time in our political history, social scientists and also Nigeria's famous psychiatrist, Professor Adeoye Lambo, began to discuss seriously about conducting psychiatric test on political office holders!) And who do you think such middling political leaders entrusted with high level political appointments? Charlatans like them. The rule, as you know, is that mediocrity begets mediocrity. Insecure leaders produce insecure appointees who must dance to their tune while they play the tin-gods. As the maxim goes, you measure the quality of leaders by the quality of their appointees. Great leaders tend to surround themselves with stellar personalities, but poor leaders crave for people of their type. The first duty of leaders is to discern, identify and appoint the right people—you fail in this and you fail in everything.
To a great extent, our present political system has been forged from the anvils of Obasanjo's warped and brutal political legacy. What should have been considered as a grave misnomer is now becoming a norm. Otherwise, how could Atiku just returning into PDP, after an acrimonious divorce from Action Congress where he was also a presidential candidate, seriously believe he could now emerge PDP'candidate for 2011? Now, I am raising this question because Atiku is a serious candidate who once was close to winning nomination as a presidential candidate on two occasions. In 1992, Atiku was the late General Shehu Musa Yar'Adua's candidate to fly the flag of Social Democratic Party, SDP, with Yar'Adua's intimidating political machinery fully behind him.
In the ensuing titanic battle at Jos convention of SDP, Atiku was edged to a respectable number three position behind Ambassador Babagana Kingibe who was backed by most of the 14 SDP governors, with billionaire Bashorun M.K.O. Abiola topping the chart. During the run-off, Atiku purportedly withdrew to support Abiola—purportedly because neither Atiku nor his godfather, Yar'Adua really wanted Abiola's candidacy. When Babangida's military regime cancelled SDP's first 1992 primaries won by Yar'Adua and banned all the participants in that primaries—a situation which paved the way for Abiola, Kingibe and Atiku to emerge in the first place—Abiola's Concord newspapers did editorial supporting the ban. Yar'Adua blamed Abiola for this editorial and never really forgave him for that supposed perfidy.
Again, in 2003, when almost all the PDP governors wanted Atiku to replace Obasanjo whose dismal performance had been compounded by dictatorial tendencies, Atiku was skin-of-a-teeth away from presidency, but heroically or cowardly—depending on your disposition—backed down for Obasanjo. But, after that heresy, Obasanjo became consumed with a mission to see to Atiku's political annihilation. Obasanjo's third term—or life presidency—scheme provided a platform where the animosity between the two rivals played out. With the active support of the media and courage of the judiciary, Atiku proved himself a gallant Fulani warrior able to withstand the full armada of federal might unleashed against him by raging President Obasanjo. A man able to withstand Obasanjo intrigue for intrigue, and indeed upstage the sitting president in a propaganda warfare as Atiku did then spoke volumes of a man who had balls. Atiku's reputation soared, so much that if a presidential election were to be conducted in a free and fair atmosphere, he stood a good chance of winning. His political contacts and mobilization skills remain legendary at least then.
Structurally de-registered by Obasanjo's PDP then—as opposed to the original PDP which Atiku was one of the founders—Atiku decamped to AC to actualize his vow to run for the presidency at all cost, winning uncountable court battles down to the Supreme Court which finally cleared the way for him barely 48 hours before the election. In the ensuing electoral sham that passed for presidential election, Atiku emerged third, but that was not a measure of his political strength since the election in itself turned out to be a global electoral scandal.