JONATHAN, BEWARE OF 2011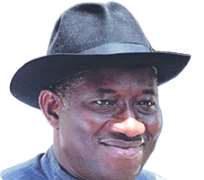 It is an axiom that when one occupies an important office, he finds himself surrounded by sycophants and bootlickers who, in most cases, are not prepared to tell him the truth. The few who are willing to say the truth are either not given the chance to do so or they may be talking to deaf ears.
This assertion can not be far from the truth considering the situation in which President Goodluck Jonathan finds himself today. A gentleman agreement was reached in 1999 by the Peoples Democratic Party on zoning. He was privy to the agreement and the same agreement made it possible for Goodluck Jonathan to be vice president and later president of Nigeria by providence.
As at that time, zoning was not unconstitutional. But now that he wants to run against voice of reason, it has suddenly become irrational to zone power. Does this flow with common sense?
We are not oblivious of the fact that President Goodluck Jonathan has not formally declared his intention to vie for the office of the President come 2011. But fortunately for those who can see beyond their noses, the president's body language is a clear pointer to his direction. And it is as clear as Abacha's plan to transmute from military head of state to civilian president and Obasanjo's infamous third term project even though the duo never publicly owned up.
Take a cursory look at those who are in the lead of the campaign for Jonathan; the same Abba Aji who truncated a letter from late president Musa Yar'Adua transferring power to Jonathan to act in his stead is now at the forefront of those campaigning for him. Does that not show any reasonable person that these are bunch of opportunists who want to be where things are happening?
Theophilus Dajuma's led Presidential Advisory Committee was said to have counseled Jonathan not to run in 2011 when he i.e. Jonathan tasked the Committee to offer an advice. The same Danjuma is now canvassing that without Jonathan no other person is qualified to run for the position in 2011 in a country of over 140m people. The same thing he said of Obasanjo in 1999. Why has he made such a dramatic u-turn?
The likes of Solomon Lar, Jonathan Silas Zwingina, Ibrahim Mantu and Jerry Gana etc are using ethnic sentiments and religious factor to drum support for the president. The thinking of these people is that they can get the northern minorities who are mostly Christians to support Jonathan's bid. At this point of our political journey, are we supposed to retrogress or progress? If these people are calling on Jonathan because of his achievements so far, I would have thought otherwise.
A word for Mr. President! I can almost bet my last kobo that most of these people are not sincere. They neither love him nor have the interest of the nation at heart. It's all about what enters the pocket. They will switch camp with the speed of lightening once they get the feeling that Jonathan may not win if he contests. Mark my word.
•Mohammed Ali (Jnr.)
Plot 225, Golf Course Close
Ungwar Rimi Road
Kaduna