OPEC Commits $9B To Develop Poor Non-OPEC Countries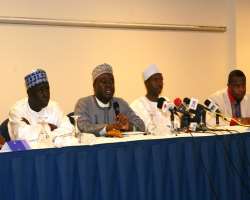 ABUJA, August 20, (THEWILL) - The organization of Petroleum Exporting Countries (OPEC) through the OPEC Fund for International Development (OFID) has so far committed about $9 billion dollars in developing poor countries that are outside OPEC membership.
Dr. Levi Ajuonuma, Group General Manager, Group Public Affairs Division and Dr. Omar Farouk Ibrahim, immediate past Head of Public Relations and Information Department of OPEC and General Manager, Media Relations of the Nigerian National Petroleum Corporation (NNPC) disclosed this today in Abuja at the one-day seminar on reporting OPEC, organized by the corporation to mark OPEC's 50th anniversary celebrations.
The duo said OPEC provided the seed money for the take-off of the International Fund for Agricultural Development (IFAD), an organ of the United Nations that has assumed a reference point in agricultural policy matters globally.
Dr. Ibrahim particularly said OFID helps poorer, lower income countries in pursuit of sustainable social and economic advancement, strengthen south-south solidarity, promote cooperation between OPEC member states and other countries even as they are engaged in 119 countries worldwide.
Dr. Ibrahim was however unhappy with the inhospitable environment in which the Nigerian Press operates comparable to their peers in America and Europe, remarking that even the poor environment has not totally diminished their capabilities as their reports are highly respected in the international arena.
He attributed the development to poorly funded working environment, lack of modern reporting tools and bureaucratic decision making, stressing that they heavily rely on external reports most times in reporting OPEC stories and called for a reversal of the trend among media owners to give the Nigerian press the leverage to perform optimally.
He called on energy reporters to as a matter of urgency help themselves in their reportage through the many channels of communication available within OPEC, namely, OPEC daily updated website, calls to the Secretariat, and electronic mails to the Public Relations and Information Department (PRID) stating that the avenues are there 24 hours.
General Manager, Inter-Governmental Affairs of NNPC, Dr. Mohammed K. Amate and General Manager, Community Relations in their remarks said that Nigeria's membership of OPEC in the last 39 years have not been in vain, reasoning that 90 percent of Nigeria's total earnings come from oil sale and there should be cause to celebrate.