Minister Wants Presidential Aspirants To Support Jonathan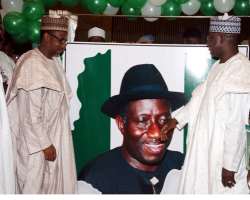 PHOTO: L-R: FCT MINISTER, SENATOR BALA MOHAMMED AND NATIONAL COORDINATOR, GOODLUCK JONATHAN SUPPORT GROUP, AHMED ALI GULAK, UNVEIL A PHOTOGRAPH OF PRESIDENT GOODLUCK JONATHAN AT THE SUMMIT.

ABUJA, August 19, (THEWILL) - FCT Minister, Senator Bala Abdulkadir Mohammed has charged other Presidential aspirants to drop their ambitions and support President Goodluck Jonathan because he represents a new Nigeria.
The Minister gave this charge today during a Goodluck Nigeria National Summit at the International Conference Centre, Abuja.
Senator Mohammed opined that the election of Goodluck Jonathan in the 2011 General Elections would ensure continuity, stability, growth and economic development of the entire country.
He said that President Goodluck Jonathan had a wonderful relationship with late President Yar'Adua and has shown utmost commitment to continue the good work started by the duo.
Senator Mohammed remarked that the uncommon commitment so far exhibited as well as the love and respect shown by President Jonathan to all sections of the country should earn him the Yar'Adua//Goodluck continuity joint ticket by 2011.
He stated that the ascension of Goodluck Jonathan to power is divine and should be respected by all God fearing people.
Senator Mohammed reiterated that Goodluck 2011 is a Nigeria Project that epitomizes national development and should be supported by all well meaning and patriotic Nigerians.
He described the Summit as a manifestation of genuine support by ordinary Nigerians to call on Goodluck Jonathan to contest the 2011 General Elections.
The Minister however urged all the support groups to bury all their differences and come together in one umbrella to form a formidable front to woo President Jonathan to declare his intention to run.
Also speaking at the occasion, the National Coordinator, Goodluck Support Group, Alhaji Ahmed Ali Gulak said that there are 1,027 Support Groups across the nation calling on President Jonathan to contest the 2011 Elections.