How I escaped death - MC Oluomo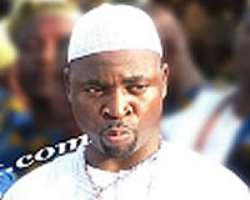 Days back, many were jolted by the reported attempt to eliminate popular socialite and Lagos State NURTW treasurer, Musiliu Akinsanya, a.k.a MC Oluomo. Although, he narrowly escaped, the
messengers of death took the life of his driver.
Narrating his ordeal to PPP, he admitted he was talking about this for the first time." I've not spoken to anyone concerning the issue. We left the office in my driver's car for Sharon Hotel, Okota, and went to my room with my assistant, while the driver went to the gym. Around 1.30a.m., I heard a car honk its horn and saw some people entering the hotel.
"At first, I thought they were policemen, but alas, they held all security men hostage. They were about five. They checked all the cars parked in the hotel, obviously looking for my car, but fortunately, I didn't come with my car that day.
"The next thing, they held the bartender hostage, and asked him "where is MC's car? I was looking at them from my room. Then, they asked for the driver and the bartender took them to where he slept.
The one at the gate had a pump action gun. I heard what they said to the driver before they shot him.
During that time, I called the owner of the hotel to invite the police, but before they came, the guys had run away. They were assassins.
The police are investigating, I thank the Lagos CP on that matter, they have recovered some of the cars stolen by the bandits 'he said