Hamidi, 18- Year Old Faces execution in Iran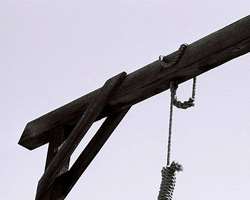 Photo: Noose Threatens 18- Year Old Hamidi photo by Bryan Davidson
Gay Middle East and OutRage! are issuing an urgent appeal to save the life of 18 year old Iranian, Ebrahim Hamidi, who was sentenced to death on 21 June 2010 for a vague, unspecified sexual assault on a male. He is now awaiting hanging, despite his accuser admitting that he lied, and withdrawing his accusation of sexual assault.
You don't even need to be gay or lesbian in Iran to be in mortal danger - a simple, unfounded accusation can be enough to see you sentenced to death. Last month, the famous Iranian human rights lawyer, Mohammad Mostafai, announced in a press release that three of his four clients were cleared of sodomy charges, but one, an 18 year old youth named Ebrahim Hamidi, was sentenced to be executed.
Hamidi was originally sentenced to death two years ago, at the age of 16, for an alleged attempted sexual assault on a male. The execution sentence was handed down by Branch 2 of the Criminal Court in East Azerbaijan province on 20 July 2008.
Saghi Ghahraman, a CEO of the Canadian-based Iranian Queer Organization (IRQO) spoke about this case. Ms. Ghahraman last week stated that: "execution is an inhumane and brutal punishment." She added that this: "specific case which is tied, for no reason, to homosexuality", is completely without foundation and unjust. To Ghahraman, the harsh attitudes towards homosexuality are enough to have any person, whether straight or gay, put to death. This law is not only wrong in condemning to death innocent people but damages families and severely scars whole communities. Ghahraman was deeply alarmed by the execution order for Ebrahim Hamidi. She reiterates that Hamidi is not even "accused of homosexuality, but of sexual harassment based on a false accusation, without any evidence," by a mere decision of a judge.
According to the Iranian Penal Code considers sexual intercourse between member of the same sex to be a crime punishable by death for men and by lashings for women (Islam Penal Code of Iran, Article 108-134). Any man found guilty of having penetrative sex with another male should be killed, whether the sex is consensual or not. It does not matter whether the other party is a minor an adult (Islamic Penal Code of Iran, Article 108). The false accusation of homosexual assault - Now withdrawn by accuser
In addition, the Supreme Court of Iran has twice rejected the provincial court's guilty verdict and death sentence and ordered a re-examination of the case. This ruling has been ignored by the local judiciary in East Azerbaijan province. On top of this, the guilty verdict and execution order was rejected twice by the Supreme Court of Iran - once by Branch 17 and once by Branch 42 - because of shortcomings in the judicial investigation. It ordered a re-examination of the case. Yet the provincial court still insists on executing Ebrahim.
Although, the law requires all claims of sex crimes to be accompanied by least four adult male witnesses, now Ebrahim Hamidi faces execution by hanging, despite no legal representation. Iran's Supreme Court twice rejects guilty verdict and orders re-examination but the Provincial court presses ahead with execution plan, defying Supreme Court.
In cases where those who bring claims of sex crimes to the court fail to provide what the court considers to be adequate evidence, they are punished. (Islamic Penal Code of Iran, Section five, Book Two, second chapter, articles 139-164). His lawyer, Mohammad Mostafaei, who would have argued this case was forced into hiding after an arrest warrant was issued.
In total, laws that govern adult rape and child sexual abuse make it nearly impossible for many victims to come forward, let alone demand justice.
Iranian authorities are determined that Ebrahim's execution could take place at any time.
He now has no legal representation. Ebrahim Hamidi's lawyer, Mohammad Mostafaei, has been forced into hiding after a warrant for his arrest was issued. The Iranian authorities are furious over Mostafaei's highly publicised efforts to stop the stoning to death of Sakineh Ashtiani on alleged charges of adultery.
"There is no evidence that Hamidi is gay or that he committed any crime. This execution must be stopped. We need your help," said Dan Littauer, editor of Gay Middle East.
"Ebrahim's case shows the flaws and failings of the Iranian legal system. It is further evidence that innocent people are sentenced on false charges of homosexuality," added Peter Tatchell of the London-based LGBTI human rights group OutRage!
"The claims of the Iranian authorities cannot be trusted. Our best hope is to persuade the Chief Justice of Iran, Sadeq Larijani, to veto Ebrahim's execution.
"Wherever you live, get your MP/Congressperson/Deputy and Foreign Minister to lobby the Iranian Chief Justice.
"An international campaign can help stop Ebrahim's execution, just as a similar global campaign has, so far, halted the stoning to death of Sakineh Ashtiani.
If you live in the UK: "We urge people to ask their MP and MEPs to lobby the Foreign Secretary, William Hague, and the Iranian Ambassador to London.
"Letters from MPs and MEPs will have maximum influence and impact. Please urge your MP and MEPs write letters of protest urgently. "I call on William Hague and David Cameron to make representations to the Chief Justice of Iran to halt Hamidi's execution, annul the death sentence and order a re-trial," said Mr Tatchell.