I'LL EXPOSE THOSE WHO USE FIFA TO BLACKMAIL NIGERIA – ONIGBINDE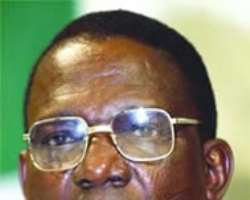 Onigbinde
CAF and FIFA's instructor, Chief Adegboye Onigbinde, has said that all those who used FIFA to threaten blackmail against the country would soon be exposed. Chief onigbinde, speaking with an Abuja-based radio station, Hot FM, said that it was wrong to shout interference any time government who funds football 100 percent in Nigeria makes any input to football 'It is sad to see some selfish people use FIFA to threaten blackmail againstgovernment and Nigerians.
They would soon be exposed because FIFA is very aware of the fact that government funds the game wholly in Nigeria and, indeed, Africa. 'How can FIFA be allowed to threaten Nigeria at the slightest move to right the wrongs in football when it knows how football is funded in Nigeria.
'FIFA does not act like that except some people are giving it false information
and making it to threaten Nigeria all the time. I don't think it is right to shut out the government from football activities when the same FIFA knows that NFF is a government organ and is subject to directives from the government,' he said.
The Super Eagles' former coach also posited that government advice should
not be misconstrued to be interference and that government had not changed or
influenced a change of election dates, adding that managing football in
Nigeria is not same as in Europe, so FIFA should give respite to Nigeria.