Jonathan Bars Aides From Campaign On Zoning, Presidential Election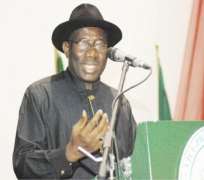 San Francisco, August 02, (THEWILL) – Nigeria's President Goodluck Jonathan has barred aides from joining the heated political debate and campaign on the ruling party's controversial power sharing arrangement (zoning) which has pitched the North versus the South in a debate on whether Mr. Jonathan should contest the 2011 presidential election.
Mr. Jonathan is from the Southern part of the oil rich West African nation.
The late president Umaru Yar'Adua was elected in 2007 to serve the North's two-term of eight years, that is, four years each, but his demise which occurred during his third year in his first term allowed Jonathan, his deputy then, as successor. President Olusegun Obasanjo, a Southerner, who was Yar'Adua's predecessor, served two terms of four years each.
President Jonathan's Senior Special Assistant on Research and Strategy, Mr. Oronto Douglas, told the journalists that President Jonathan has placed an embargo on his aides joining the campaign and debate for his perceived push to contest in the 2011 presidential race.
"The President has said he wants to consult with Nigerians on the 2011 issue. He is still consulting.
"In fact, I am aware that he has intensified his consultations and he has ordered all his aides who have been linked with the clamour for him to contest to steer clear of politics and allow the President to finish his consultations."
Adding, "I know that the President is an inclusive person, consultative and broadminded. He will anchor his decision on the total interest of Nigerians.
"The President believes that the journey of Nigeria is not an individual affair; it is not a sectional affair; it is not a religious affair; and it is a national matter. The Nigerian character is not exclusive."
President Jonathan has severally dogged giving a definite answer on whether he would stand for election in 2011.
He said he would announce his decision when his party, the Peoples Democratic Party (PDP) makes its primaries timetable public.