HOUSE OF REPS INVITES 6 FORMER MINISTERS, NFA'S EX-CHAIRMEN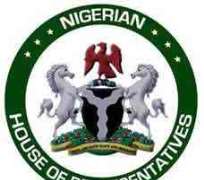 As the Federal House of Representatives gets set for its landmark stakeholders forum on August 10 that will probe the inadequacies of Nigeria's football in the last 10 years, six former ministers of sports and five former NFA chairmen have been invited to appear before the House Committee on Sports.
Very authoritative sources said that apart from the leadership of the current NFF, who are billed to appear on August 10, that day belongs mainly to former sports ministers, who in the course of their assignments had to deal with the problems of Nigeria's football, through their supervision of the problematic football association.
Current Minister of Sports, Chairman National Sports Commission (NSC), Alhaji Ibrahim Bio, leads a strong group that will include his immediate predecessor, Alhaji Sani Ndanusa, who incidentally is also a member of the Presidential Football Restructuring Committee.
Other invited ministers include: Col Musa Mohammed Rtd., the man who created the enabling environment for the take off of the Premier League Board in Nigeria, Hon Ismaila Sambawa, Hon Bala Kaoje, Hon Bala Kaoje, Chief Alex Akinyele and Hon Abdulrahman Gimba.
Also invited are: Former NFA chairmen, including Group Captain John Obakpolor Rtd., Col Mumini Aminu Rtd. Brigadier General Dominic Oneya Rtd and Dr. Amos Adamu FIFA and CAF Executive Committee member who was one time sole administrator of the NFA.
It will be recalled that the Federal House of Representatives was not happy with the poor showing of the Super Eagles at the recent World Cup in South Africa mandated its Committee on Sports to look at ways to redeem the deteriorating situation. The committee has set August 10-12 for a three day brainstorming on the problems of the sport and the way forward.
One of the letters of invitation sent to a stakeholder and signed by Committee Chairman, Mohammed Sulaiman, reads in part: ' In response to the public outcry that greeted Nigeria's surprise first round ouster in the just concluded 2010 FIFA World Cup, the Federal House of Representatives, through its Committee on Sports has decided to institute a stakeholders forum to deliberate on the future of the game that Nigerians hold so dear.
'…Given the benefit of your experience, you will be required to enlighten us on the general organization and development of the game, the relationship between government and the football association, and the roles of FIFA and CAF in the internal management of the game in Nigeria and any other submission that you believe will help us move the game forward'