I HATE THAT MY HUSBAND IS TOO CUTE---Enitan Balogun, CEO, Lise Beauty Range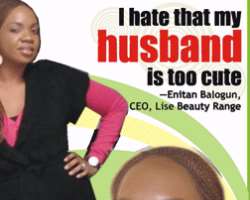 Enitan Balogun is the Chief Executive Officer of Lise Beauty Range, an internationally recognized make-up line. In a chat with ADA DIKE, she talks about her life, passion for make-up business and other interesting issues
Why did you go into make-up business?
I have always had a passion for make-up. Even as a teenager, I never got it out of my system. In fact, as a teenager, I was a tomboy. In fact, I am still a tomboy. I have always liked arts and anything that has to do with arts. When I was in the college, most of my part-time jobs were with cosmetic companies like MAC, Fashion Fair and so on. I worked in those companies for some years. So, when I later realised my passion for make-up, I decided to go for make-up courses in So Line Beauty School in New York. Apart from this, I also did some jobs with notable photographers and fashion designers to enhance my skills.
What were some of the challenges you had when you wanted to set up your beauty business?
I didn't have many friends in Nigeria and getting around to meeting new ones was a bit difficult. Getting supplies and everything I need were equally hard. So, I had to ship most of the items from the US. But the problem of electricity supply is still a major one and it makes my skin crawl because make-up and heat aren't friends, especially foundations and glosses. So, we have to run the generating set every day.
What would you say is the attitude of people towards make-up in Nigeria?
At the moment, if you don't use the latest make-up trends, it means you're not current. Honestly, Nigerian women have embraced make-up, the application process and the glamour that comes with it.
How was your growing up?
I was a daddy's girl, and I am still a daddy's girl. I had my way all the time. But since I grew up, I cannot do all those things anymore. Growing up for me was fun. I grew up partly in Nigeria and partly in New York and Brooklyn. I had the best of those worlds. I used to ride my bicycle around the streets and I really do miss doing that now. Because of this, everybody in my neighbourhood knew me.
Which of your childhood memories do you cherish most?
I would say it was the time I had to go to the boarding school in Abeokuta, Ogun State. I attended a lot of secondary schools because I was shuttling between Nigeria and the US. But the moment I cherished most was when I was in Girls' Grammar School in Abeokuta. There, I met a lot of people. It was there that I actually learnt what being real was truly like.
So, how has this experience affected your life?
Well, I think it brought out the real me and it made me Eni; and it also made me LISE. It made me a very positive person. I grew out of my shell. Usually, if you are not familiar with me, you would say or, at most, think I am snubby, but I am not. Basically, I am a very shy person, but I'd say my experience at Girl's Grammar School made me to open up more to the realities of life. It also made me to know more people and open up more to them. When I was there, I spoke with a lot of people and I had a cordial relationship with every one, both my seniors and my juniors. In fact, I was just cool with everyone.
Could you tell me a little about Lise?
Basically, Lise is a make-up studio and we do accessories of all kinds. We also make tattoos; but today, I have just launched the Lise eye shadow pallet containing beautiful colours. Most make-up artists want to have it, but as I always tell people, you do not have to wait to become a make-up artist for you to have a pallet range. The eye shadow pallets come in shimmers and mars and you can get as many as 88 colours once you have it. You can never lose out on it, so it is if you have it. You can always combine them by yourself; or better still, you may like to create your own style. You'll definitely be able to make something beautiful out of it.
What benefits does anyone who comes to you enjoy?
One can get a crash course on make-up artistry at the Lise make-up school. We give rewards depending on the selected packages which comprise ipods, blenders, toasters, digital cameras, free make-up boxes, free Lise gift certificates and more.
You are a wife, mother and businesswoman. So, how do you juggle the two?
I would say I am a superwoman. Yes! I am a super woman. My husband calls me a superwoman because I work very hard. This is because I am someone who tries to please everyone. But I have realised that you cannot please everyone in Nigeria today. In America, people appreciate you when you try to do your best for them. But here in Nigeria, it is very hard. When you are trying so hard, some people would shout at you and some would try to pull you down because they know you are better than they are. I have to continue to do my best and not really look at the way things are going around me. I just set my goals and I work towards reaching my goal.
If your work and your child need your attention at the same time, what will you do?
Well, I have been in that situation several times. There was a time I was in a very bad traffic and I had a vital bridal job to do with Tastee Fried Chicken, so I had to come out of my car and hop on a bike to get to where I was going. Prior to this time, I had never been on a bike. So, it came to a point that I had to make that very vital and drastic decision. This is to tell you that I can go all out to do anything to serve my clients and make them happy. So, I always try to do my best and attend to everybody's needs, including my kids.
How would you describe your husband?
My husband is an extremely shy person. He supports me in everything I do and I thank God for giving him to me. I also thank God for my three kids. He is very funny and he could be naughty. Sometimes, I hate the fact that he looks too cute and that makes people get to look at him too much. We do quarrel, but we do not go to bed without resolving whatever issue we may have. So, we always settle our quarrel before we sleep. He is a very fashionable person. He is always particular about what looks best and what does not. You will not believe it that he dresses me up today. Yes, he does. He chooses my dress and make-up today.
Is your husband a make-up artist or a fashion star?
Professionally, he is not a make-up artist. Yes, I am fashionable in my own way, but I am not a fashion star and he is not either. It is just that he has his own idea of what looking good is all about. But for me, I am stylish and I like to feel comfortable in whatever I am wearing.
So, what is your style?
I love to go casual at all times. I love jeans and I have over a hundred pairs of jeans. It is a part of my life. And because I love to wear jeans, I hated to work in a bank. I had to look corporate all the time, but I didn't like that.
As an African woman, how do you see yourself?
I am happy to be an African woman. An African woman appreciates herself, even if no one does. But now, a lot of people all over the world appreciate the African woman from the inside out. As an African woman, if you do not appreciate yourself inside out, I do not think anyone else will.
How do you relax?
I like to sit down and watch movies, though I do not watch a lot of TV programmes.
What is the secret of your beauty?
My beauty secret is that I have a husband to keep me in tune and I have my children to chase after; so, it helps me to keep the weight off. I do not have to go to the gym. All I need is to run around the house with my kids. But I do a lot of other exercises at home as well. I also dance a lot and I do my aerobic at home. When I put on my music, I really do try to shed as much weight as I can. I know I have the tendency to be fat, so I try very hard to keep the fat off. I like my physique. I am not over weight or skinny. I am just okay like this and I feel comfortable with my size.
Could you give me an insight into your background?
I am a mother of three girls and I love beauty business. My father had a cosmetic business, Groom Away Gray (men's hair grooming business) in Nigeria. So, while growing up, I watched my father and learnt the rudiment of make-up business.
I attended Christland and Gideon International Children School. I later attended Adebayo Mokuolu College, A.G.G.S., among other ones for my secondary education. In 1995, I relocated to the United States. While I was in the US, I did hair-styling and worked for make-up beauty brands like Fashion Fair, MAC and Bare Escentuals. After I completed my studies, I returned to Nigeria to launch Lise Beauty Range in order to take make-up business in Nigeria to the next level.
I went to Bureau College in New York and I had my Master's degree in Investment Banking. But make-up was something I wanted to do because I prefer to be a make-up artist.