MY WIFE IS MY ATM – MC ABBEY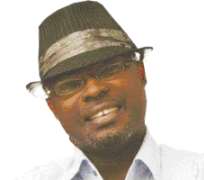 MC Abbey
Show business personality, Abiodun Olapade, is certainly relishing the sweet taste of a good marital relationship. From the moment he set eyes on his wife, something told tim that she was his missing rib. Olapade, known by many as MC Abbey tells Sunday Sun his love story.
How long have you been married?
I have been married for three years.
How did you meet your wife?
I met my wife during the Miss Gateway Beauty Pageant in which she participated and was the second runner-up. Alli Baba and I were the anchormen that day. I was at the back stage and she just struck me. I was attracted by her beauty.
Then, we started chatting, but she was so busy then, so I had to leave her. But that encounter kept coming back to me until I met her again in Lagos at my church. Right now I can still remember everything we discussed, everything we said that day. That was how the journey started and we here we are now with a beautiful baby girl, Amanda.
Aside her beauty what other thing attracted you to her?
She is a good woman, a supporter, a helpmate and she believes so much in me. When I met her, the only thing I had was a foam mattress. Even that foam was borrowed. I remember I was squatting then.
And she was a beauty queen?
My dear, I was squatting and I told her everything but I kept telling her where I was going to. I kept telling her I knew I would be great, I would give you a good home and stuff like that. And she believed in me. I just bought her a car recently. You won't believe that four months into our relationship, I bought my first car and it wasn't just a small car but a Honda baby boy with a powerful V6 engine. Also I ceased being a squatter and moved into my own well-furnished apartment.
This happened in the space of four months, so I call her my ATM machine. So anytime I'm broke and I don't have jobs I tell her baby pray o! Job has to come o! She would say it is well. If I'm troubled and I'm at an event, I would just call her, baby I don't know what to say o. She would always say to me: 'Go, kill them and come back'. Even before we got married, she encouraged me because I used to meet her at different events. Then she was doing ushering jobs at different events. She would encourage me. She also kept my food for me, because I didn't like eating during events. In fact she turned my head and I said, Nna, this is the wife forget about it.
Do you help your wife at home?
Yes I do. I have changed diapers over and over again. I even suck the phlegm from my baby's nose and I even carry her on my back her. You know my wife still works; she is a chartered accountant. Sometimes when she gets home, she is tired and she has to get to work the next day. So most of the time I have to be with the baby all through the night; in case the baby wakes up and she wants to eat. I wake up to change her diapers too. I have to do that so that she can have enough rest. But during the weekend she takes charge.
What has fatherhood taught you?
A whole lot. You have to take care of your family. So you have to hustle more. I give credit to those who have three, four or more. It's not easy, but it is interesting. When you look at someone that is part of you, you smile to her and she smiles back. Even when the baby cries, you are happy.
How have you been able to handle the home front and your career?
Well, I have a very understanding wife who knows the type of job I do, so she supports. Thank God we have a nanny that comes and goes everyday. That has also helped a great deal. She understands me. She releases me. When I'm home, I'm home.
For instance, I don't like receiving calls from 9pm. Sometimes I don't pick the calls because my phone is always on vibration except you are a very close pal. It's because I want to give that time to my family. I create opportunities to spend time with my wife. I take her out and give her treats because she deserves all the attention.. So that makes up for time when I'm not around especially when I have to travel out of the country. Communication is the key in any relationship, so I make sure I talk to her at least five times in a day. I burn credit on that seriously.
How did you propose to her?
That day she thought I was joking. First, I went to see her in the school. At that time, she was in final year at Olabisi Onabanjo University, Ogun State. I told her about it and she said if I was serious I should see her pastor. It was like she trying to threaten me with her pastor. So I went to see her pastor and expressed my feelings, my heart and my vision with him.
The pastor was so impressed that he booked me to speak with the youths. And she was like, 'but pastor I told you to speak with him and you are inviting him to speak to the youths? But he said this guy is very powerful and he has words that can inspire. I quickly chipped in, tell her o! She now smiled. That to her was a confirmation because she had prayed about it. She said yes on that day, July 12th, and I finally gave her the ring the next year on her birthday.
I just knelt down and called her name. I said, I love you and I would love to spend all my life with you. Oh, she was so teary and I teased her by saying, you better quickly take it before I give it to someone passing by. (Laughs) She felt I was joking but I kept saying that I wanted to share the rest of my life with her. You know people don't take comedians very seriously.
How long was your courtship?
We were friends for a year and we courted for a year. So let's say two years.
Do you cook for your wife?
Sometimes, but not always because when I cook, I don't know how to eat my food. So I do that once in a while as a special treat. I take her shopping and I buy her weave-on.
What type?
She calls it human hair.