FASHION IS BEING DECENTLY DRESSED — OLUKU, CHIEF RESPONSIBILITY OFFICER, TREASURE COVE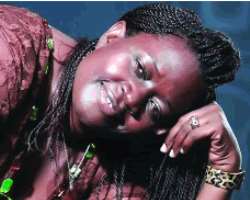 Elsie Oluku
Mrs. Elsie Oluku is the Chief Responsibility Officer for Treasure Cove Nigeria Ltd, an umbrella body of Shakara, Iyanga, Swagger, Oh My Gush and Ginger fashion outlets.They are all trade marks of Treasure Cove Nig. Ltd. In addition to fashion business, she did hospitality courses and have worked in the hospitality industry for 14 years. Recently, her fashion outlet, Shakara, won best new upcomer award at Encomiun Black and White ball. In this interview, she spoke about fashion trends and fashion generally.
Why did you go into fashion business?
Adventure, curiosity and challenge took me into fashion business. The thought is, if you live in Egbeda, for instance, and have a dinner or award function, and for some reason you thought you could not go home to change, you should be able to enter Shakara and pick your shoes, bags and gowns. You could also have your hair made and have your makeup on and you are ready to good. This is what I like doing. I enjoy ease. I can't move out of Ikeja. My activities centre around Ikeja and I can't see any reason I should go out of Ikeja.
What is your idea of fashion?
My idea of fashion is being decently and tastefully clothed. I love things being fun. When things are steotyped or boring, they lose their appeals for me. Right now, the world is upside down and it is still tumbling and we are not sure when it is settling. I still maintain that you don't have to show everything to be sexy. What our role models wear is amazing. Now, it is not a big deal for people to expose their bodies. That is part of the reason we are saying that we are going to tailor our children clothes and make them as fun and smart as possible but gradually encourage them to cover up, because what some mothers wear for their daughters is not decent enough.
What does it take to look good?
It does not have to be expensive. The way you put your stuff together makes it look expensive. Some people wear the most expensive things, but they look like second hand clothes. Yet, there are people who wear second hand clothes and it looks as if they are coming from a designer's shop. So, it is not the money, it is how you put the money together. That is one place I think Nigerians have got it wrong. They believe in designer label. If you are not carrying a designer label, you have not arrived. That is why immitation is much here which is why I don't want to copy any designer label. I want to be Shakara and I hope that those designer freaks would see the difference and what we are doing and embrace it. When you talk of rebranding, I think it does not start from television. The first thing anybody could have rebranded in this country is electricity. That would turned this country around. They wouldn't have spent so much on television. Once there is light and good road network, you don't need any rebranding.
Some people follow trend, what can you say about that?
Sagging is a good example of what you are saying. It is terrible. You would find older people sagging. It is bad enough that young people are sagging. People don't know the origin of sagging. It is for prisoners. They give them because there are no sizes, and they give them anything and it falls off. The second one is cleavage. It is ridiculous. I appreciate a little cleavage and not that one that would hang out if you are trying to bend down. I think that is indecent. Even some churches have put up a campaign against indecent dressing.
Older women even wear cleavage more than the younger ones. How can you react to this?
It is a pity. Most of us believe in following vogue. As much as we try to be trendy, we should still be selective on what trend to follow. Sometimes they ar not aware so they do the wrong thing.
What strategy have you put in place to survive in the already saturated fashion business?
I am not a boutique. I am a clothing outfit. It will take time for Nigerians to know the difference. Apart from media, we are still counting a lot on people's responses.
What challenges do you forsee in your business?
Some of the challenges are government regulation and levies. Another one is electricity. The rest are the normal business challenges. If there is no competition, people will not be creative and innovative.
How best do you like to dress?
I like to dress casual and fine. I hate formal and stiff dressing. We have got quite a few people from what I wear.
What is your best accessory?
My best accessory is wristwatch. I can leave my house without other jewellery, but not wristwatch. It is not that I can't do without it. I like gold wristwatches.
How best do you like to wear your make-up?
I am not a make-up person.