WE HAVE NO ABANDONED PROJECTS HERE –BAYELSA WORKS COMMISSIONER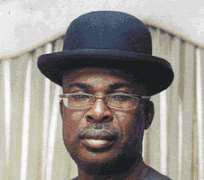 Ahead of President Goodluck Jonathan's visit to Bayelsa in August and against the backdrop of strident accusations that the administration of Governor Timipre Sylva has littered Bayelsa State with abandoned projects, his Commissioner for Works, Mr. Emmanuel Frank- Opigo has declared that there are no abandoned projects in the state.
Frank Opigo in an interview with Daily Sun in Yenagoa said all projects listed by the state government are being catered for in the 2010 budget. He said there are on-going and completed projects, with some of the former inactive because of the financial difficulties suffered by the administration for about 18 months.
He, however, explained that with the improvement in revenue allocation due to resumption of oil production after the Federal Government's proclamation of amnesty for Niger Delta militants, work would resume in all the sites: 'I want to clarify once again that in Bayelsa, in this current dispensation, read my lips, we do not have abandoned projects.
'An abandoned project is a project that you have decided not to continue with. Once you still have it in your budget to continue a project, then, it is not abandoned. We have only two sets of projects, on-going and completed projects. Among the on-going projects, some may have been stalled for sometime owing to obvious reasons of financial challenges but I repeat, they are not abandoned projects.
'We had difficulties in our finances for several months now, about 18 months. This is why most sites are not active. But thanks to the amnesty the Federal Government has brought about, things have stabilized. There is peace in Bayelsa, oil is flowing once again and our revenue has greatly improved.
'Definitely, as we have entered the second half of this year, you would see changes in all our projects sites as work would resume. If your definition is different from mine, to calculate the percentage of abandoned projects, you must have a list of projects from the government, which you can go out to verify with and then calculate precisely how many sites are active, how many are inactive. With simple Mathematics, you can calculate projects which are abandoned in quote, because we do not have abandoned projects in our dictionary.'
Speaking about meandering nature of some roads in Yenagoa, Frank- Opigo said it was due to lack of proper building plans by the first military and civilian administrations that took charge of the state after its creation: 'When the state was created in 1996, if the government at that time, both the military and civilian governments had insisted on development control, what you are talking today about meandering roads would not have been there.
'There is a section in Yenagoa that looks triangular from Edepie. People were just selling lands anyhow and building haphazardly. Most of those places, the space for roads have been there, and we simply went to help the people to surface them. Of course, you might ask that why did we not do as they did in Port Harcourt, to demolish and get the standard road weight. The sensibilities in Port Harcourt are different from Yenagoa. We will still go ahead to standardize the roads. Yes, the roads are meandering, but they were already existing in the present shape before we went to surface them.
'Another thing is cost. If people have already built houses and you want to put your roads, you have to demolish a substantial number of houses and the cost of compensation would be high. You would also find out that the burden on government and the people whose houses are demolished would be enormous. We are aware of the situation.'
On the menace of people defacing the roads: 'For people defacing the roads, the Environmental Sanitation Authority is handling it. It is an act of indiscipline. The sanitation authority is doing something but it has not been consistent enough.
'I have been talking to the chairman to ensure that this does not continue because their activities are also harmful to road users. The development has also been discussed severally in executive meetings and we are handling it.'
Frank-Opigo shed more light on the Central Business District (CBD) project: 'When this government came into being, the governor had a number of flagship projects. The CBD is one of them, the Marina project is one of them, the Airport and the Model schools. These projects are still priority projects. The CBD is now under Capital City Development Authority (CCDA). This area is to be developed as the main industrial district of Yenagoa just like you have in other cities. But like every other land it is water logged and sand filling is key.
'I know that the CCDA has awarded the contract for the sand-filling. CCDA has a master plan for Yenagoa and that area is also planned. The plan now is to task people; it is not for government to build everything at the CBD. Government is to make it good enough for companies, individuals, organisations to come and take plots to build.
'The governor has been talking to a lot of oil companies and most of them have agreed to have a kind of sub-headquarters in Bayelsa. Shell, AGIP etc have actually agreed and they will be coming to take plots in CBD. Government will sand-fill part of it but other companies that take plots will sand-fill their plots and build. CBD is not something that will happen overnight. You will see it growing as the companies come in. They were shying away before because of security, but that has been taken care of. Very soon, you will see companies coming in.'