''Am engaged'' –Dakore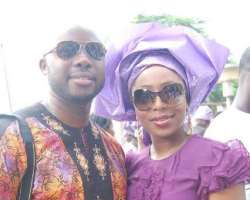 Dakore Egbuson is a beautiful actress who has created an extra-ordinary standard for herself in Nollywood. The lady who hails from Bayelsa State doubles as an ambassador for Amstel Malta and spokesperson for Amnesty International as well as Oxfam of America for the Control of Arms and Ammunition. She rose to fame as a result of her brilliant performance in movies, especially 'Emotional Crack' which she says brought her to limelight. For nine years, she has been wearing her hair in dreadlocks describing it as natural, easy to maintain and a trademark she would love to keep. In this interview with ESTHER IJALANA, she spoke passionately about her first love, which is music and her other plans she is unfolding bit by bit.
Give us an insight into your background.
I am the first out of five children. I have three brothers and a sister. I was born here in Lagos. My dad is a retired contractor and my mum is a caterer. I went to Corona Primary School in Gbagada, then went to Federal Government Girls College, Bauchi. I proceeded to University of Lagos and read Mass Communication. I have been in the industry for 13 years.
How did you get into acting?
It was while I was working with a production firm and was doing a television programme called World Classic. I was a co-presenter and I was doing it with a guy who was at that time a doctor. It was while I was doing the show and came for the taping that I saw Emem Isong. She was having a casting for a new TV Show she started called Inheritance. She just saw me and said she liked my look. She then said, 'why don't you read this part and let's see'? I read it and she liked it. That was how I started acting. As God would have it, the show didn't run for too long. It ran for three months and got cancelled because there weren't enough funds to keep it going. But I caught the acting bug and found it very interesting, because it was something I didn't know I had the capability to do until it presented itself. Emem Isong encouraged me and promised to contact me again for another movie role. I said 'no problem' even though I didn't think much of it. I just went on doing my TV show. Like a year later, she called me and I did the lead role for Silent Tears, which was my first movie and had a powerful actor like Pete Edochie, a man I idolized as a child. After then, we did quite a lot of movies. The rest is history.
Have you always wanted to act when you were a child?
Actually, no. I never had the inclination. I have always wanted to be a musician and a television presenter but I knew I was going to be in the arts. I felt it would be music because I have always done music in primary and secondary school. I was a member of the band and choir in church. I felt music was the thing for me, but God had other plans which I am grateful for. It helped me discovered a different side of myself which I didn't even know existed.
Which of your works brought you to limelight?
I would say She Devil set the ball rolling, but it was Emotional Crack that brought me out. It was my fifth movie, but a controversial role. Apart from that, it showed my range. I won three awards for that movie. Though, I was living in London then, but I got calls from Nigeria to congratulate me and I felt so great. After that, we got an invitation to New York African Film Festival because of that movie. We had to support and talk about the film in New York. It was just awesome.
So you would say Emem Isong contributed to where you are today?
Yes, she did. I also think it's a two-way thing because if she didn't see that I was able to do justice to the character, it wouldn't have happened. And, of course, if she was not a brilliant writer, it won't have happened. It was not just Emem, even Lancelot Imasuen who was the director. It was just a perfect combination of characters and circumstances. It is just God that said 'this is it', but yeah, we worked towards it together.
Did your family encourage you when you went into acting?
My family was not too surprised because they knew I was an artistic and expressive person. They had probably programmed their hearts like 'Dakore is going to end up probably in the arts'. But I would say at first, my dad was a bit skeptical because at that time, actors were considered as a profession for the drop-outs and never-do-wells, so he had issues with that negative perception. But after a while, when he saw my passion and people's positive reaction to him as my father, it made him proud. I am grateful I continued because if I had allowed his skepticism and fear get in the way, I probably won't pursued it. I just told him: 'daddy, I really feel strongly for this', and he was like 'okay'. But my mum was always supportive and encouraged me in whatever I chose. She gave me the backing and support that I needed. For my younger ones, they were not too surprised and my school mates too knew I always did something. People knew me to be an entertainment person.
What about your love for music? Have you been singing?
Yeah, I have been singing since I was a child, and it is very, very amazing that it is acting that brought me into the limelight. But it is part of the things I do as an entertainer. I consider myself a performing artist because apart from acting, I perform and I sing. Even when I went to London, I performed at the Royal Festival. It is all-encompassing. I am also a television presenter. It is just the talent God has put in me and I give Him all the glory for it.
What kind of music do you sing?
I will call it 'the fusion'. It is a fusion of afrobeat, soul and hip-hop. I am still trying to put in other things because I love jazz.
Have you released any album?
No, I haven't release any album. I actually released a single very quietly last year called Don't make me. Some people loved it and some didn't. I got mixed reviews. It was good because it made me to know that the areas I needed to work on. I don't just want to bombard people with an album. I want people to have an idea of what my voice sounds like, where I am coming from musically before I now come out fully.
It has become a trend in Nollywood for actors and actresses to go into music. What do you think about this?
For me, I was already singing before I became an actress so it is very different. There is nothing wrong with it. I think music is another form of expression. Whether you do it and become a success or not, doesn't matter; as far as you have satisfied your inner yearning. Talent should not be measured by just money. I am doing music for the love of it.
How has it been like to be an Amstel Malta ambassador?
It has been awesome. The response to the commercial was amazing. I didn't expect that people would react that much. It was a blessing and I thank Insight Communications because they were the one that reached out to me, and other people like Yomi Benson, Ngozi Nkoji, Ify Dozie and Nigerian Breweries. All these people saw me and felt I was right for it. I just thank God. It was a divine intervention.
What has being an Amstel Malta ambassador done for you?
It is great. It has open a lot of doors. It has opened me to a whole new audience. It is not just people who watch Nollywood, but people who love the brand. It has added to my level of excellence because the advert was impeccably shot. It has pushed me higher. It is an honour.
You are a spokesperson for Amnesty International. What has the experience being like?
Actually, I have being a spokesperson since 2005. We are basically campaigning that arms and ammunitions should not be in the hands of the wrong people. It should be in the hands of the well-trained people like the army and police; not in the hands of the youths. As you know, I am from the Niger-Delta, but I am sure the people who contacted me to be part of it realized I am from there. They just saw me as someone who could pass the message. I feel so bad because a lot of my brothers out there have a lot of guns and it shouldn't be the case. So I am really appealing through that platform to tell them that, 'I know there are challenges and difficulties, but there are other ways to fight without the gun'. You can fight with education, vocation and having something to contribute positively to the society. That was basically why I am very proud to be a spokesperson, because this issue is not in Niger-Delta and Nigeria only, but in Africa at large. It is crazy seeing a little boy holding an AK47. They chose me in November 2005 and I try to speak about it all the time, even in interviews, just for me to spread the message of peace. It is fantastic that the boys are putting down their guns in the Niger-Delta and trying to take on other things that would help them in the long run. It is another honour.
Apart from all that, what other things are you doing as a spokesperson to ensure this message of peace spreads around?
We actually shot a campaign in Senegal; not just me, but with representatives from other countries. I was representing Nigeria. I don't know why is hasn't come to Nigeria yet. Maybe they have a funding issue. I didn't want that to be a hindrance, instead I used the platform I had. That way, the messages are still spreading. It is a very political thing as well. I didn't want to politicize it. I wanted to just speak as an artiste because that is what I am. I'm not a politician. Instead of saying 'government do this and that', I want to use my voice and the fact that people know who I am.
What are the challenges you have faced as an actress?
I would say even in the course of acting, it is a challenge because you want to make sure that you do justice to the work. You want to make sure that you bring the energy you require to create new character. I mean being somebody that is not you. The challenge of working in Lagos, travelling up and down, never being home, missing my family and friends. Being in a different place with different people you have never met before. The challenges of people's perception of what an actress should be. They think actresses a loose people. The challenge of working with your colleagues. I have lost my privacy, like answering questions I am not ready for. All these things are quite challenging, but I thank God for His grace that has kept me going. I am not complaining because the positive part outweighs the negative. I get so much love from people. This has helped me to overcome my challenges because you are a public figure, you have become a role model. I think it is a real character building for me personally.
How do you handle fame?
Like I said, by trying not to be too over-exposed and by trying to keep it real. I guess that is what has helped me. I am putting on a face to please anyone. I am just myself in any situation. My family and friends have kept me grounded. They treat me like a normal person because they have known me before I became a star. It helped me realize I am still me. Many people tell me, 'Dakore, you are so down-to-earth and cool'. It is my upbringing. I was brought up to respect people irrespective of your class or status.
Tell us about the Dakore Show you are about to start?
By God's grace, I am doing my best to bring out the best in this show. It is all lot about travel and issues. I am exposing people to what I am exposed to, because I travel a lot and meet a lot of people. It is like seeing the world through my eyes. I have a lot of opinions about issues and I want people to see that. I want them to see things that I love and things that motivate me. People who are interested in me hopefully would be interested in what I have to say and what I have to show them about the world that I am exposed to.
When is the show kicking off?
I am still shooting and putting all my stuff together, but hopefully if not the last quarter of this year, then it would be early next year. I want to make sure I do a great job. I already went to Los Angeles to shoot the pilot part, because I wanted to get a high level of expertise in order to set the pace for the subsequent episodes to meet up to the standard. I am going out to make sure it is perfect, because it is a true representation of what see and how I see the world.
When you start the show, will you concentrate fully in it, or you will still be acting?
Definitely, I would still be acting because it is not something that would consume all my time. I will give time to both of them, but for acting I am looking for a very challenging role. I am looking for something that is out of the ordinary. We all know Nollywood is a bit stagnant, and naturally, most of my fans know that I never really wanted to be in all movies. I want to make sure what I do next is worth my time and energy because I am very passionate about acting.
Why are you selective in participating in some movies?
Because I don't want to be embarrassed, at the end of the day when I am showing my movies to my kids or grandchildren. When I am old, I don't want reactions like, 'grandma, why are you doing that kind of film?' Also, I try to be professional. I want to work in a professional environment and make sure what I do is what people expect of me. When you are in every movie, you can't really give your all. Some people move from on location to another and carry on the same role instead of being something different. To be honest, it is just my personal preference and the same that I am. I am not somebody that loves to be everywhere. I am not knocking all my colleagues who want to work all the time, that is them and this is me.
If there is anything you could change about Nollywood, what would that be?
One thing is not enough. I would love to see more technically competent people. I would like there to be more avenues for training for actors, director, all those involved in the production of movies. I would like to see a better distribution network. I would like to see our African literatures adapted into movies. I would to see a situation where we understand the power we have in the media to change perception of how people look at us as Africans because it is the way we present ourselves that people would take us. Nollywood has not really understood the power it has. But I love Nollywood, I must say, because we have a voice. For instance, before when you think of Nigeria, you think of 419. But now, when you think of Nigeria, you think of Nollywood movies; and I am glad to be part of that positive change. But I want us to aspire, move higher and leave a lasting legacy. Nollywood is great, because if not for Nollywood, you won't be talking about me.
What about Nigeria?
Oh my God! We need many changes. Like water, light, good roads and all the basic amenities. I can't believe in these age till 2010, we still have those things has challenges. There is the issue of corruption and poverty. When I see kids hawking on the street, it kills me and I feel like crying. We are such a blessed nation. Why should we be living like that? In fact, we don't have good leaders. It is a bit of a shame to be honest. We are going to be 50 years old in October, and we don't have much to show for it. Our educational system is nothing to be desired, even though we are one the most intelligent people in the world. That is why there is a lot of brain-drain. That is why many people are leaving for greener pastures. You cannot blame them because when you are in a place where you are not accepted, you will go somewhere people need your skill. We are losing a lot. I really hope we can get things back to that.
Which do you value most, family life or career?
That's a hard one. Your career is not going to come for you in times of trouble, so I would say my family. My family mean to much to me.
How is your relationship?
My relationship is fantastic. It is great. By God's grace, we will go to the chapel soon. We are engaged as you can see (displays her finger with an engagement ring). He did a fantastic job. We are working towards that.
It is still Olumide Akande, right?
Yeah
Considering the fact that you are an actress, how have you been able to sustain your relationship this long?
It is by the grace of God because honestly, all the challenges we have experienced, is enough to break us, but God put it together and He is the one helping us. And making sure we put the two of us first.
He is Yoruba, and you are from Bayelsa State. How have you been coping considering the language difference?
I am not tribalistic person.I have friends from all over. I went to school in Bauchi. I think that has really helped me and my family is not tribalistic too. We have people in family that are married to whites, some married to Yoruba, Ibo and different tribes. I think being tribalistic is a bit low, because we are all Nigerians. That is part of our problems as Nigerians. We think of ourselves as tribes first before country. If we think of ourselves as country first, we will move much faster.
Do you understand Yoruba?
Mo gbo diedie (I understand a bit). I grew up here, so I understand Yoruba.
When are you guys legalizing your union?
Soon, I don't want to say more than that. I don't want to say tomorrow and they say, 'oh, but you said it is tomorrow. I will just say soon by God's grace.
How did you meet him?
I don't want to talk about it. I swear I don't. I think what I have said is enough. It doesn't matter where we met; the fact is that, we met.
What are the qualities you saw in him?
I don't want to talk about it. I will tell you when we have done the wedding.
How do you manage male admirers?
I am very polite and sweet, because at the end of the day they are my fans, so I have to treat them with respect. But they also have to know that I need respect as well. Honestly, I have never had any negative problem with them. They are always very kind and understanding. And if they want to go beyond appreciating my work, I just tell them, 'you know I have a man'. It all depends on how you handle it. I am very diplomatic as a person.
Who is your ideal man?
I would say first of all, a God-fearing man, because if a man fears God, he will think twice before hurting you. A man without the fear of God would do anything without thinking twice. Somebody who is hard-working, which is definitely an attractive trait . Somebody who is compassionate, who can feel for you. As women, we need that because we are very emotional. Somebody you can rely on.
Do you think love is enough in a relationship?
No, love is not enough. There are so many other things like communication and the rest. Though, love is important because it is the main ingredient but it is like a soup you put only salt and there is no pepper. You will know something is missing. So, having the skills to communicate because some people don't know how to relate to each other. You need the fear of God which is the bond that would keep you bounded. Also, respect for each other as individuals.
Your favourite fashion accessories?
I love shoes and bags. That is where I go crazy.
Your beauty routine?
I try to have a balanced diet and I try not to eat too much sugar. I wash my face in the morning and evening, moisturize and use sun-screen which is very important.
Apart from acting, singing and presenting, how else do you relax?
I love coming to the spa as you can see, and I love nature. I love the beach which I don't really get to go as much as I want to. I love nature.
What is it you can not stand?
I can 't stand backbiters. I cannot stand people that are deceptive. It disgusts me.
What is your phobia?
I hate cockroaches. I don't like crawling insects.
Do you have a memorable day?
It was a day I received an award, though it wasn't my first but I was there. It was the first Nigerian Entertainment Award in Maryland – U.S. It was the people's choice for 'Best Actress' and I wasn't sure I would get it, even though I was there. I was somehow uncomfortable, and at the time they were about to announce the winner, I felt like going to the bathroom. And when they called my name, I was like, 'oh my God'! What really touched me was that, it was the fans that voted. It wasn't a panel judgment. It really touched me. I will never forget it. I was so happy because I felt appreciated.
Which of your movies was most challenging?
I think Men do Cry. It was quite challenging because of the role. It was a role of someone who was jilted on the altar. You know that is a woman's worst nightmare. I had to act that part. That was very tough. Emem wrote that too.