TRIBUTES AS ADERINOKUN JOINS SEPTUAGENARIANS CLUB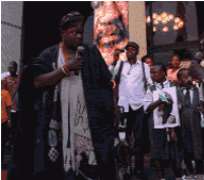 •A scene from the celebration
In these days of endless struggle and low life expectancy, turning 70 years old is no mean feat. And that was why, relations, friends and the art community assembled to celebrate the enigmatic poet and journalist, Chief Eddie Aderinokun, popularly called, Ado who joined the septuagenarian club on last July 13.
The banquet hall of the National Arts Theatre Iganmu, Lagos, was filled to capacity with dignitaries from all walks of life, indicating the greatness of a man being celebrated.
The roll call paraded politicans, scholars, technocrats, entrepreneurs, poets, dramatists, traditional rulers, publishers and many more. Some of these include Dr. Bamanga Tukur, Odia Ofeimun, Chief Duro Onabule,Olowu of Owu, Tunde Fagbenle, Hon Bayo Odulana, Laolu Akins, Sam Amuka, Dr. Doyin Abiola, Uche Anyamaele, Femi Esho, Folu Agoi, Dagga Tola, Toyin Akinosho, Mahmoud Ali Balogun, Kunle Ajibade, Dr. Jide Rotimi, Chike Ofili, Akeem Bello; Senior Special Assistant to the governor of Lagos State and Alhaji Bola Odunewu, among others.
The well-packaged event which was compered by Adesuwa Onyenokwe and Ropo Ewenla had the trappings of a first class celebrity programme. The Segun Adefila-led Crown Troupe of Africa rendered a wonderful performance entitled, Thirty Thoughts in Thirty Cities to the admiration of the gathering while Solar Records supplied live music to soothe the tempo of the evening's celebration.
Chairman on the occasion, Alhaji Tukur avoided some political comments when he said, that the business of the day was a family affair meant for celebration and not long speeches. While unveiling the celebrant's books: Zero to Hero and ODE to Artist Without Compare, Publisher of Ovation magazine, Bashorun Dele Momodu said that he had wanted to become a poet and teacher but for the embargo placed by the military on employment at that time.
He however, blamed leaders for not appreciating poetry and the arts in general because, according to him, 'they didn't go through what we went through.' Momodu left the stage after reciting the first lines of one of the books to the admiration of the audience. The books were illustrated by the Chief Cartoonist of The Sun newspaper, Albert Ohams.
There were goodwill messages from people whom Aderinokun had influenced. From Chief Dayo Duyile, who revealed that Aderinokun was a tenant in one of the houses of the late dramatist, Hubert Ogunde in Yaba, to veteran music producer, Laolu Akins, who said that the celebrant was the pillar behind his musical group and who gave him his current name which has become an institution today, and many others who praised the sterling qualities of the man of many parts.
Clad in a beautiful grey agbada and cap to match, Chief Aderinokun was in high spirit as he explains how he feels at 70. 'At 70, I still think like a 40 or 50-year-old man. I am a blessed man in all ramifications. My children are doing well as well as my wife. So nothing bothers me. Now, I am prepared for anything including death. I believe only God gives and takes life but all I don't want is to suffer or be subjected to hardship before dying.
'I consider myself lucky. If it was about being cautious that one stays alive and strong, then I wouldn't be alive today. I break all rules of caution in health matters. I drink, eat and do everything. I even do my writings at midnight hours but I am grateful to God who has given me good health despite all these excesses'
On writing and his book, Zero to Hero, the former editor of Daily Express, explained thus: 'I believe I was born with the talent for writing but I must confess, I was influenced so early by nursery rhymes and other foreign books. My main inspiration in literature is Williams Shakespeare. I have my Bible and Shakespeare's works. Despite the fact that he did not attend any formal training in literary writing or university, his (Shakespeare's) works have issues about nature, love, religion, betrayal, politics, economy, hatred, ambition, among others.
Then on Zero to Hero, I wrote it because of the content. It is a report of what I experienced while doing my travelling in and outside of Africa. I was fascinated by the people I met and the places I visited. What I did was to capture my travels and experiences in verse. Sometimes, I might be in my hotel room listening to music or watching a film and certain ideas would come. I would quickly put these down on paper. The book is a celebration of creation and the mystery of existence. As humans, we do not seem to appreciate the power and force that enable us to do many things.'
Although he prides himself as perhaps the only person who bridged the gap between poetry and journalism, the former president of Nigerian Volleyball and Wrestling Federations explains his choice of poetry as a medium of expression.
'I choose poetry as a medium of expression because I realize that out of all the genres of literature or the arts, it is the closest to prose and that only few people were interested in it. So having realized that in our time, literary writing was not so recognized in journalism, I opted for poetry which is the strongest of all the genres. Although I ventured into virtually all areas of the arts but poetry has been most apealling because it enables me to say many things or record many of my experiences in verse form.'
Not comfortable with the way Africans are handling their affairs, the activist also spoke on the style of leadership in Africa. ' Leadership has been the bane of development in Africa. But our counterparts in Europe and America are lucky. They give equal opportunities to people and respect human dignity. Ironically, Africa is the richest continent in terms of resources and natural endowments. All we need do now is to back up our resources with good leadership and Africa would be the place to be.'