I have dual personality, says Basket-mouth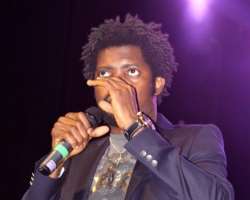 Bright Okpocha is not as popular as Basket-mouth, but both names belong to the same person. He is a native of Abia State and a graduate of Sociology and Anthropology from UNIBEN, who dropped his certificates to become a stand-up comedian. In this interview with ALEXANDRA IBIWOYE, he talks about his two personalities, why it's difficult for him to be Basket-mouth off stage, the challenges he's facing and the project he's working on, among other issues.
What kind of person is the comedian, Basket-mouth?
Basket-mouth as I think I know him is practical with his delivery and analysis of his environment, down to earth in character.
My personality as Bright Okpocha is different from Basket-mouth's personality, call Basket-mouth my alter ego.
In few words, Basket-mouth is a cool chap.
What has inspired you to start off as a comedian?
I was inspired, when I watched Eddie Murphy's performance in 'Delirious', when I then watched Ali Baba perform on the Charly Boy Show; it made me confirm to myself that I can do it.
Could you tell us about your family background?
I'm the third born of seven children, five boys and two girls.
We lost our eldest brother six years ago and my dad last year, so in total we are seven including my mum.
My parents trained us well, provided all our needs, and were very supportive, especially with us making decisions in life.
Three of my younger ones are still in the University, my younger sister has graduated, and my elder brother is married and based in the UK. Need I say more?
At what point would you say was a turning point for you in your career?
I'm yet to experience a turning point in my career.
What are the challenges you face as a comedian?
Well, I get to face a lot of challenges as a comedian and as well as a celebrity (if I can be addressed as one that is) few of the challenges is staying fresh with my performance and delivery, maintaining the profile, being politically correct at all times, I live a double life (Basket mouth and Bright) most people expect me to be basket mouth when I'm not on stage.....now that's pretty difficult.
What or who would you say has been a source of motivation to you in the comedy industry?
A whole lot of people, from comedians to friends and clients, both in Nigeria and beyond, some of these people are my parents and siblings: 2 face, Ali Baba, I Go Dye, Okey Bakassi, Dotun Makun, Bovi; it's a long list.
Most especially though, my life, my future, the struggle and my dream was the biggest motivation I got.
What would you attribute your success in the comedy industry to?
I don't consider myself as successful yet, I'm still climbing, but the journey so far can be attributed to my talent and the fact that I'm always ready to milk it as much as I can.
A lot of hard work and focus as well.
Do you engage in other things aside comedy?
Yes, I run an entertainment and events management company, we provide entertainment contents for event, that's one thing that always keep me very busy because we are trying to expand.
How do you cope with your experiences with fans?
It has its good and bad sides. Some fans are on point and always nice, while some are not, they come at me sometimes with so much disrespect and insults, expecting me to swallow all I get since I'm a comedian, forgetting that when I'm not on stage I'm a normal person like them.
Some ask for funds, some punch or smack me as a way of expressing their feelings; I know it's the price I have to pay, so I'm not complaining.
Although I sometime wish it can stop... big dream I guess! It's a Nigeria thing; fans outside the country are a bit different with theirs.
Could you tell us your craziest fan experience?
Luckily I've not experienced a crazy fan before (Laughs).
What do you have to say to up and coming comedians?
You guys should be more hard working, more creative and focus, don't enter the game for the money or fame but for the love of it.
What are your plans for the future?
I intend to officially get married, I also plan to go main stream, and I'm walking towards that path already though.
Should we be expecting anything new from the stables of Basket-mouth?
Most definitely, I'm working on a series of projects, in Nigeria and beyond.
I'm working on the Nigerian version of Lord of the Ribs which will feature some international comedians and musicians, everything has been confirmed; it's just to punch the start button.
I'm also trying to restart my monthly comedy show (Laffs n Jamz).....just to name a few.
What would you say is the unique attribute you possess that differentiates you from your other colleagues in the industry?
I think it's the fact that I carry dreads, the fact that I really don't crack jokes but tell funny stories/facts, the fact that I have no boundaries on my way of thinking and delivery, the fact that I don't use any Nigerian comedian as my yard stick in terms of achievements and target, I actually don't see any comedian as a competitor as I'm my own competitor.
Could you highlight to us the pains and gains involved in being a comedian?
People don't take you seriously, and when you are joking they take you serious, and I think the gains of being a comedian is that it allows us the opportunity of saying it all without mincing words, which I love doing.
Finally what problems do you think are inherent in the comedy industry and how can they be solved?
The fact that some comedians steal other comedian's jokes/material, especially the younger comedians, most of them entered the industry for the money, it can't be stopped or changed, all I do is work harder.
Any final words to your fans and the general public?
I want to say thanks to all my fans for the support and love, you guys are my energy and drive. I won't be here without each and every one of you.
I love you guys...and for the haters...I love you guys too, you people make me work harder. God bless.