Kidnapping: Our Leaders Must Govern Seriously - NLC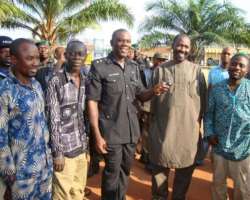 PHOTO: FREED JOURNALISTS; L-R: MR SYLVA OKEREKE; MR. OKONKWO ADOLPHUS; A POLICE OFFICER, MR. WAHAB OBA AND MR SOLA OYEYIPO AFTER THEIR RELEASE BY THEIR ABDUCTORS IN ABIA STATE.

ABUJA: July 18, (THEWILL) -The leadership of the Nigeria Labour Congress (NLC) today said it was excited to hear the news this morning of the release of Comrades in the Nigeria Union of Journalists (NUJ) and their driver who were kidnapped last Sunday in Abia State.
In a statement made available to THEWILL in Abuja, Labour said while it welcomed the good news and join families in the celebration, it particularly commend all Nigerians who spoke out vehemently in condemnation of the dastardly act and the inability or incompetence of our security agencies to tame the rising spate of kidnapping and other crimes in our society.
NLC said that its decision recently at the National Executive Council (NEC) in Akure, Ondo State capital, that the increasing rate of kidnapping and other criminal activities is a direct consequence of failure of leadership.
The leadership of the Nigeria labour Congress restated that the political leadership are too engrossed with issues of power acquisition because of what they stand to personally get out of it to deliver on the responsibilities expected of them, adding that the character of the country's political leadership at all levels contradicts the logic and philosophy of governance which essentially is the promotion of human dignity and the protection of core values of society.
"We are of the view that though the journalists have been released, the processes of investigation to ensure that the culprits are brought to book must continue. We also wish to restate that the Federal Government which has the exclusive power over security matters immediately put in place a mechanism for ending the booming kidnapping or hostage-taking rackets particularly in the South Eastern part of the country".
It said that anything short of ending the prevailing tension, regime of fear and general insecurity is totally unacceptable to the Nigeria Labour Congress and to majority of Nigerians who have waited in vain for the realisation of the promises of democratic governance since 1999.
It urge Nigerian leaders to wake up now and take their responsibilities more seriously to restore not only all sense of decorum and the hope of our people but as well our dignity and honour.