No one can annul my election says Babangida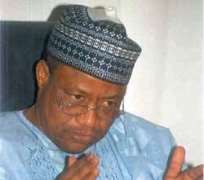 Ibrahim Babaginda
Former military president, Ibrahim Badamasi Babangida, who annuled MKO Abiola's election in 1993, has declared that if he contests election and wins under this democratic dispensation, "nobody can annul that election."
Babangida who in 2008 said he was too old to start soliciting for votes, has showed a lot of desperation in his bid to return an Nigeria's president. The former military president currently has the murder of Dele Giwa, and the dissapearance of the gulf war multi billion dollar windfall hanging over his head.
Babangida, who was responding to questions from journalists shortly after he paid a courtesy call to the Emir of Kano, Ado Bayero, inferred that he was able to annul the 1993 June 12 poll because at that time, he operated as a military ruler.
Babangida, who is aspiring to be a democratically elected president in the 2011 poll, said it would be impossible, under the current democratic dispensation, for elections to be annuled.
He maintained that under democracy, dictated by the rule of law, the people's will must prevail at all times.
"I want you to understand two things; this time, my dear friend, we are playing democracy; that is the government of the people, by the people, and for the people, using political parties and using the rule of law. So, I can't see anybody annulling my election in a democratic society. Don't forget that I ran a military government," he added.