I AM IN LOVE WITH A WELL DESERVING MAN – MAKE UP ARTIST, LOLAR SHON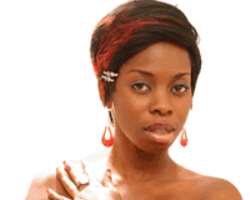 Lolar
She is cute, hot and talented. Omolola Shonowo popularly known as Lolar Shon, is not a model but has won various beauty pageants including Miss Spotless Lagos State University in 2002. She is also set to dazzle the fashion scene in Nigeria with the fourth season of her fashion show, Fashion Fusion, later this year.
The Theatre Arts and Music graduate loves doing make-up before she ventured into fashion. Her love for make-up made her do it for free before going commercial. She has handled interesting jobs for celebrites in the country and is having the fun of her life because she enjoys her job. Lola, who spoke to Daily Sun recently, bluntly reveals she is in love at the moment, what fashion means to her as well as her unique selling point as a fashionista. Excerpts:
Life as a make-up artist
It is awesome doing what you love and being free to try out new things on different people.
Jobs handled
I have done make-up for the likes of Charly Boy in his Naija Bike video. Goldie has also experienced my touch for her Spin Me video as well as Soule Baba for his Esoji video. I have also done make-up for Sunny Neji during his new album launch and also for Keith Richards, former Managing Director of Guinness, and Michael Power, for the Guinness advert. I have done quite interesting jobs and I am happy doing them.
Myself
My name is Lola Shonowo and I was born into a christian family on July 7 in the eighties. I hail from Ilishan Remo, Ogun State. I coined out LOLAR SHON from my surname Shonowo. I am from a polygamous home and the first daughter from my mother. I also have two brothers and a sister from my mum. I own Lolar Shon beauty place and also own the first Nigerian fashion catalogue, Fashion Fusion. I organise a yearly event tagged Fashion Fusion on the runway.
I have a fashion page called 'What Were You Thinking' on Laffmataz. I studied Theatre Arts and Music at the Lagos State University where makeup was a key course. I love and enjoyed what I studied in school because it was an avenue to express myself without hitches. I also anchor shows. I am not a model, but I have body for modelling such that I have won many pageants. They include Miss Lekki 2000, Miss Theatre Arts (Lagos State University 2001) and Miss Spotless, LASU in 2002.
Journey into make-up
I love doing make-up for the love of it, before friends made me realise I could make a living out of it. Later, I ventured into fashion shows.
Parental support
My parents have been supportive of my dreams from day one.
Childhood expereience
Growing up was so much fun because I was sneaking from choir practice to music concerts.
Combining make-up and fashion
Make-up is highly creative and demanding, while fashion is the expression of your inner self. So, I ventured into fashion because I wanted the world to know who I really am.
About Fashion Fusion
Fashion Fusion started as a makeover show. I recollect when we did the first ever makeover show on the runway using people living with HIV as models in 2006. Since then, it has become a yearly show. The catalogue was conceived and I have worked with models, designers, photographers and media houses. In 2008, the making was shot in Lekki Beach. I am looking forward to having the biggest show in Africa through my fashion catalogue this year.
The aim of Fashion Fusion
Fashion Fusion is aimed at dictating the trend of fashion since the catalogue is a quarterly thing. Fashion designers are meant to showcase what is in vogue for each quarter such as the dos and don'ts of fashion. The yearly show is also aimed at showcasing upcoming and well known gifted designers and make-up artists.
My Unique selling point
My unique selling point as a fashionista is my face and my body.
Inspiration
My environment, nature and people inspire me a lot to make a headway in life.
Part of your body you love most
I love my face because I can practice new make-up techniques on them before trying it out on clients and friends.
Your kind of man
A God-fearing man and one who is down-to-earth appeals to me. He must also possess a great sense of humour and be very hardworking, too. These qualities are what I look out for in a man and any man who possesses them will do any day.
Handling overtures from men
It is easy to say no in a polite manner and have cordial relationships with them. Some of them may be pesistent, but I know how to handle them.

Lolar
Happy moments
I am happy when I am with my family and loved ones. I am also happy when I am working.
Sad times
I am sad when people make a big deal about life and indulge in fetish practices, forgeting that God exists.
Financial rewards
Make-up is as rewarding as oil business in Nigeria.
Favourite food
Rice, rice and rice. Anything made from rice. I enjoy rice so much.
Do you believe in love?
Yes, I believe in love. After all, it is the greatest commandment to love your neighbour as yourself. Love is about feelings and when you know what you feel, then you have to give it to the other person. It is all about giving.
Are you in love now?
Yes. I am in love right now with a well-deserving man.
Future plans
I am working hard to move my beauty place to a bigger place and Fashion Fusion Season 4 takes place September this year.