AMAA BOSS RETURNS WITH ANOTHER LAUDABLE PROJECT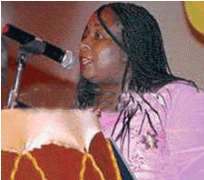 In order to help re-build weak family ties, GRA Women, a new soap written and produced by Peace Anyiam Osigwe and directed by Kingley Omoefe will soon debut on Africa Magic, Africa Independent Television and other national TV stations.
According to elated Osigwe, also the CEO of Africa Movie Academy Awards (AMAA), the riveting and painstakingly shot soap would definitely delight television buffs within and beyond our shores when it finally hits shelves, early October.
The story of GRA Women is the story of women who live in highbrow neighborhoods. It is about their joy, frustrations, emotional trauma and the pains that also trail the high society women.
The first season of the soap will run on TV for 52 weeks and it is a detailed story of the lifestyles, frustrations, pains and occasional joy of women who live in highbrow residential estates, most especially Ikeja GRA.
It depicts the story of women in upscale areas. It tells us that beyond the façade of exotic cars and mansions wives in exotic residential estates and areas are mere mortals who also share the same social, economic and conjugal experiences like the other everyday women.
The plot of GRA Women revolves round Kemi Okalawon (Doris Simeon) a cool, sexy and manipulative flirt who was born and raised within the GRA. Like other children who were born and raised within the GRA, Kemi's paternity is questionable as her mother's dalliance with other men within the estate led to her birth. Kemi as an archetypal character represents the real story of many children within high octane neighborhoods. Attempt by Kemi Okalawon to unravel her paternity sets the stage for the conflict and treachery in GRA Women.
As a result of parental delinquency and other socio-gravitational pulls such as emotional cracks, family dissonance, economic hardship, separation and often times, avarice, most children like Kemi are left to their own whims and caprices by their parents.
Senator Fitzgerald Okon (Tony Umole) and his wife Boma Okon (Ngozi Nwosu) are having running battles due to mistrust occasioned by temporary relocation of Mr. Okon to Abuja having won an election as a Senator of the Federal Republic. Okon like an average Nigeria politician abandons family responsibilities and rollicks with women of easy virtues at the seat of Government in Abuja.
Under the guise of legislative assignments Senator is always on the move and globe trots without attending to his family responsibilities. This leaves the wife, Boma Okon distraught, crestfallen and troubled. She finds solace in gossiping with other women within the highbrow residential estate with similar social experiences and conjugal frustrations.
To patch up their emotional cracks and satisfy their base instincts the women also began to indulge in infidelity and other anti-social behaviours as a counterpoise to staying above whatever social problem they are passing through.  The soap co-produced by Peace Anyiam-Osigwe and Frederick Atigogo in a nutshell, is a contemporary TV series that deals with the challenges, pressures, expectations, secrets and fantasies of people, particularly, women that live in Lagos highbrow areas.
Speaking on GRA Women, the writer and Producer said, 'GRA Women is a way to tell the story of real life situations people face in the so-called rich people's havens. What passersby see are the big cars and big houses but they do not know what the people living in the big houses and driving in the big cars go through. I was raised in GRA as a child and I still leave in Ikeja GRA.
'Let me add that the story is not peculiar to Ikeja GRA. It is a social experience of people who live in the rich areas across Nigeria. Some wives have been abandoned by their husbands in the big houses. Yes mansion and the cars are still there but often time no money to maintain and sustain the opulent lifestyle and pay the children school fees in the highbrow schools.
Out of frustration and in a bid to sustain the illusion of grandeur many women in the rich areas engage in some improper behaviours. That is the story of GRA Women,'' said Peace.
Other thespians in the soap include: Ofia Mbaka, OC Ukeje, Chika Chukwu , Evelyn Fairly, May Oba, Ricardo Agbor, Alex Okoroji and many others.