Shooting videos overseas doesn't automatically confer super status on artistes - Cally Ikpe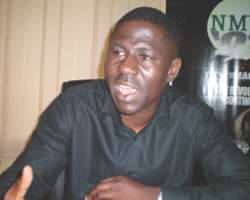 Cally Ikpe is acclaimed to be the producer of Nigeria's longest running entertainment programme, Live Beats. The Benue State-born entertainment practitioner is also the arrowhead of the Nigeria Music Video Awards. In this interview, he shares the lows and highs of his career with KEMI LAWAL

HOW does it feel to be the producer of Nigeria's longest running musical programme?
Great, 15 years of Live Beats is a feat worth thanking God for. We have weathered the storm, enjoyed the great moments and still we are as fit as ever for the march towards taking control of our share of the entertainment industry. I'm particularly elated that ours is the longest running music programme on TV not just in Nigeria but in Africa.
You must have faced some challenges.
I can't deny that fact. Fifteen years has not been a bed of roses so I can't say I have had a smooth sail whatsoever. Lack of sponsorship at a point threatened the continuity of the programme, but just as we contemplated resting the show, AIT was generous enough to have offered us their platform and we bounced back. Today, Live Beats is syndicated on about 14 TV channels, including Ben TV, London. Yeah, it was Daar Communication that came to the rescue and there was no better way to show my appreciation to Chief Raymond Dokpesi than to have him inducted into the NMVA Hall of Fame. I mean the man has been supportive of entertainment from time immemorial. I think the honour done him was long overdue. I can't imagine what would have happened if AIT did not bail us out. That period was particularly frustrating. It was a near zero situation for me. I'm glad I persevered.
What about your good moments?
One of the finest moments for Live Beats was the day the programme debuted on TV. That was on Oct. 14, 1995. It was a fulfilling moment and the excitement lingered for a long time. Then came the moment Coca-Cola broke the jinx and we had our first ever advert on the programme. That was significant for me because it was not common place for a music programme to be considered a platform serious enough to advertise. That is very unlike what obtains now where we have corporate bodies backing entertainment without fuss. Equally very significant was when the programme clocked 10 years of consistent broadcast on TV. The celebration was massive and it turned out a turning point in the life of the programme. Our reckoning grew and we became better positioned to consolidate the brand and let out a lot of other complimentary brands as we are experiencing today.
You are one of those championing the video revolution in Nigeria; what is it all about?
I'm charting a revolutionary course (video wise). Coming from a period it was unfashionable to play music videos produced locally, more so when you had to put them side by side with those coming from abroad, we can proudly say we have done well. It didn't seem quite pleasant doing that then, but I knew it was necessary to bring the Nigerian Music Video to speed. Live Beats provided that platform. It was not all about videos as we also tested vocal prowess by the live performance session we regularly observed. The music video business is a very serious one as we are invariably transmitting culture and our way of life. Inappropriate packaging could send the wrong signals and so much would have eluded us. On the average, Nigeria is blessed with abundant talented music video makers whom with very little resources are able to churn out incredible works of arts; that is not to say there are no mediocre, a key reason we emphasise excellence so all can embrace the challenge and step up their game.
What is the relationship between NMVA and the revolution?
The NMVA is still in furtherance of the video revolution. It is a statement to the effect that we have come of age. TV viewing, today, is more interesting because of the quality of music videos that constitutes bulk of the content. Video makers have risen to the challenge and embraced the fact that there is only one stage and that is the international stage. There is no such thing like the local stage. I'm particularly honoured to have originated the first ever Music Video Awards in Nigeria. The NMVA is however everybody's thing just like the name implies. In fact, the more the merrier. We are making intense efforts to ensure that the impact is felt across Nigeria. NMVA is a national icon and we intend to keep it so. Indeed this is Africa's most credible, most attractive and most respected.
In that regards, you have got competition...
For me, what people see as competition and rivalry is a necessary challenge and the impetus to grow the brand better and invariably satisfy the viewers and music enthusiasts more. In fairness, I must acknowledge here that I enjoy a considerable deal of support from a good number of my contemporaries, as evidence from the media partners we parade at each edition of our show. That is not to say, there are no 'haters', but we are determined to make all such people embrace love and co-operation, as that is the only way we can make ground breaking impact collectively. Seriously, we need to act more collectively than individually, for us to grow the industry bigger and also protect it from undue infiltration by external forces. We cannot do it individually.
How does it feel being the arrowhead of one of Nigeria's most glamorous music videos awards?
I can't begin to describe how I feel as this is quite logical with what I've always been doing, I mean promoting Nigerian made music videos. Coming from an era when playing locally produced music videos was more of an obligation and of patriotism than by merit. It is quite fulfilling that the standards have been raised high enough to justify an award of this nature. Indeed I feel very honoured that I originated and co ordinate Nigeria's first ever music video awards, the NMVA.
What is your opinion about the craze for shooting videos overseas by Nigerian artistes?
Personally, I don't believe the foreign touch to your videos automatically confers super status on the artiste. I have seen several videos shot, packaged and brought in from the United States, yet it did not make the desired impact. The craze these days to shoot videos in South Africa is maddening. I insist that music videos produced here in Nigeria can be as good as those produced in Hollywood. What counts most is the concept and the ingenuity of the director. The video for Olorioko by Infinity is a case in point. That piece overwhelmed all other videos that came out at about that time. Everything is in your imagination. Let's not let the opportunity to show off our nation pass us by. The sceneries here are too beautiful to ignore in the name of trying to appear foreign. While I don't condemn the adventure in shooting music videos abroad, the over-indulgence is sickening. I reckon more with videos done here and done very well.
New music genres are gaining grounds in Nigeria...
We are in an era of collapsing borders, technologically, spiritually, culturally, socially and otherwise; and this, understandably is manifesting, musically too. Increased knowledge has positioned many artistes to fuse any imaginable genre into just any existing one. Hip hop for me, is just a culture, a way of life that can accommodate just any brand or genre - be it country, rock, jazz, juju, highlife. Let's not be over conservative about this, change is destined to visit all things including music genres.
How do you intend to preserve the legacy of the music video revolution?
So much has been achieved with regard to the music video revolution and the entertainment industry generally; however, all of the gains may fizzle out if deliberate effort is not applied towards preserving it. One of the ways is to firm up the institutions corporately, financially and other wise. The tree that stands alone risks falling too soon. Some serious corporate sense need to be brought in to the business and by that the right kind of money would have been attracted. Industry players must come together to foster a common front.