PDP Return: Local Chapter Disowns Orji Kalu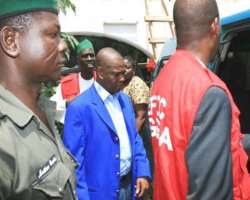 PHOTO: CHIEF ORJI UZOR KALU (Wearing a blue jacket) BEING ESCORTED BY OPERATIVES OF THE EFCC DURING HIS ONGOING TRIAL FOR CORRUPTION PERPETUATED WHILE HE WAS GOVERNOR.

ABUJA, July 10, (THEWILL) - Former Abia State Governor Orji Uzor Kalu may be headed to political perdition as his reported return to the Peoples Democratic Party (PDP) may have run into trouble waters.
PDP Bende Chapter, Orji's local government, has declared that such news of his return was alien to it.
They made it clear in a statement titled "Orji Uzor Kalu's Purported return to PDP: Disclaimer", which was signed by the Chairman of the Party in the local government, Engr. E. E. Ejiagba.
He said the report of the purported return on the pages of newspapers was read 'with utter embarrassment'.
The statement read in part; "We read with utter embarrassment some newspaper reports on the purported return of Chief Orji Uzor Kalu to the PDP in Igbere, Bende local government area of Abia State.
"We want to make it abundantly clear, that the PDP after the last congress, elected functionaries recognized by the party in every ward and local government, including Bende L.G.A where Orji Kalu hails from.
"The PDP is a disciplined, stable and organized party governed by the rule of law, its constitution and due process. We will not fold our hands and allow Orji Kalu an undeserved respite after destroying the fortunes of Abia State and infecting his own Progressive People's Alliance (PPA) with the nuisance, confusion and destruction that has become his trademark.
"The fact that he convened a personal meeting of discredited, motley crowd of remnants of his shattered PPA in his private residence at Igbere does not mean he has returned to the PDP which constitution clearly stipulates the method by which a decampee like Orji Kalu may return to its fold", he said.
Specifically, Engr. Ejeagba stated that Section 8.5 of the party's constitution states that; "Application for membership shall be considered by the Ward Executive Committee, which shall have power to accept or refuse any application for membership. Provided that such acceptance or refusal shall be subjected to review by the next higher organ of the party.
"Also Section 8.9 he said, states that; "Persons who desire to rejoin the party after leaving it shall unless exempted by the National Working Committee (NWC), be placed on probation for a period of time not less than a year.
"Section 10(c) Status of Returnee Members: states that Decampees who returns to the party should lose their seniority and privileges conferred by previous seniority.
"From the foregoing, we wish to advise all well meaning Nigerians and particularly our teeming members and supporters in Abia State that Orji Kalu up till now is not a member of the PDP and has not returned to the PDP", he said.
Abia State Ejeagba added is in dire need of complete liberation from the vestiges of Orji Kalu's despoliation of our common heritage (which includes T.A. Orji). We cannot afford to be distracted by his usual perfidy and shenanigans.
"The national leadership of the PDP and other structures of the party at all levels together with well meaning Nigerians should please take note of this disclaimer and be guided accordingly", he said.
It could be recalled that the former Abia State governor had last week declared his intention to return to the PDP from the PPA where he is currently the Chairman, Board of Trustees this week. It is a development that has left political observers agape in wonderment.