Jonathan Lifts Ban On Super Eagles, Confirms THEWILL's Earlier Report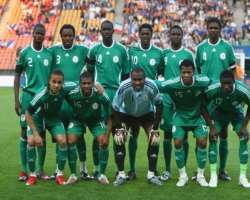 San Francisco, July 05, (THEWILL) – With a few hours left to the expiration of the ultimatum given to Nigeria by Fifa to reverse the ban on Super Eagles, Nigerian President Goodluck Jonathan today issued a directive reversing the ban after the football federation pledged to disband the team and rebuild it.
THEWIL had reported earlier that following the impeachment of the trio of Lulu, Uchegbulam and Ogunjobi from the football federation, President Jonathan would unban the team.
President Jonathan last week suspended the national team from all international competitions for two years following their poor performance at the 2010 South African Soccer World Cup where they came bottom of their group without a win.
A statement from the president's office announcing the decision to unban the national team said, "The Nigerian Football Federation at a meeting with President Goodluck Ebele Jonathan today tendered unreserved apology to the President and the Nigerian people on the dismal performance of the country's football team, the Super Eagles, at the World Cup appearance.  
"They also informed the President of their decision to disband the team, and address the numerous shortcomings evident in the management of football in Nigeria. They assured the President of their commitment to evolving an enduring football development programme, and grow a new senior national team that will bring glory, rather than consistent embarrassment to Nigeria on the world stage.  
"They informed the President that as a first step, they have proceeded to put their own house in order by removing the former leadership of the NFF, and replacing it with an interim leadership. Based on these assurances, and the appeals of well-meaning Nigerians, including former leaders, President Jonathan has decided to review the earlier two-year ban on the country from all international football competitions.  
"This review would enable other categories of Nigerian players participate in global football competitions, while a new senior national team is being developed. At the meeting, the President also directed the Sports Minister to call a meeting of all relevant stakeholders to resuscitate football academicals and other talent spotting outlets to produce a new crop of footballers and other sportsmen for the country," the statement said.