Akhigbe, Uduaghan Disagree Over Elections Rigging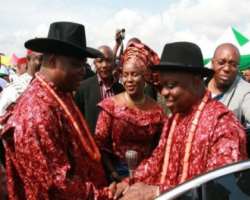 PHOTO: DELTA STATE GOVERNOR, DR EMMANUEL UDUAGHAN (R), WIFE, ROLI, AND CHIEF GODSWILL OBIELUM, (L) DURING THE RECEPTION HOSTED BY OBIELUM FOR UDUAGHAN AT THE KWALE TOWNSHIP STADIUM.

ASABA, July 05, (THEWILL) - Former Chief of General Staff, Admiral Mike Akhigbe and Delta State Governor Emmanuel Uduaghan during the weekend at Kwale, Ndokwa West Council of Delta State disagreed over massive electoral fraud which is the bane of the nation's nascent democracy.
While Akhigbe who spoke last weekend at a civic reception for Uduaghan by Ndokwa people specifically called on the people of the former Bendel State which included Edo and Delta States to turn a new leaf next year as the two states have become notorious for election rigging in the country, Governor Uduaghan disagreed, insisting that that impression was a fallacy as it is on record that no election tribunal has ever upturned any governorship election result in Delta State.
According to Uduaghan, the only electoral cases that have been upturned in the state were because of pre-electionmatters.
The former number two citizen lamented that it was scandalous to know thatEdo and Delta States have lately been the bedrock of producingthe greatest election riggersin the country.
According to him "It is a thing to be ashamed of. So, I appealto Uduaghanifhe truly wants to represent the people from this area not to engage inelection rigging. He has to work very hard, and thosewho are his supportersmust also avoidrigging of elections. Some of us who have had the privilege ofserving in higher positions in this country, will always feel terriblyembarrassed."
The former military officer disclosed that he was not contesting for any elective position but that his main priority was to ensure that the people of the old Bendel State and indeed all of theSouthSouthtake their rightful place in the country.
Akhigbe, the Chairman ofa reception, counseled against voting on ethnic lines but that people should ensure they vote in those who canrepresent them well. "What we need today is not because this is a member ofmy ethnic community but at least, the person is a Nigerian who candeliverthe goods. I will, as one of you, asa member of the old Bendel State, it might be difficultfor us to separate Edo from Delta State, to elect leaderswho are representatives of the people, and who work for the people."
The chief host and former governorship aspirant on the platform of the Peoples Democratic Party (PDP), Chief Godwill Obielum called on the state governmentto establish an industrial park in Ndokwa land as it is the best way to open up theareaadding that it was disappointing thatthe area which produces so much oil and gas was left on the fringe. "Ndokwa nation has oil and gasand our resources should be well used. Government should give us what is due to us as an oil and gas producing community.